Japan's Biggest Brokerages Hire More College Graduates
Takahiko Hyuga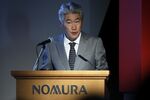 Nomura Holdings Inc. and Daiwa Securities Group Inc. accelerated hiring of university graduates this year as a stock-market rally brightens prospects for Japan's biggest securities firms.
Nomura recruited 600 school leavers for its main brokerage arm, a 20 percent increase from a year earlier. Daiwa boosted its intake by 24 percent to 758. SMBC Nikko Securities Inc. hired about 600, up 16 percent. The new staff members will start on April 1, spokesmen for the companies said.
SMBC Nikko and Nomura took on more graduates than they had initially planned in order to secure talent as Japan's labor market tightens and the equity market reaches a 15-year high. Stock brokers will need staff to cater to individuals who are expected to follow institutional investors and buy more equities, said recruiter Katsunobu Komizo.
"Japanese brokerages are becoming bullish as their earnings are improving and confidence in fundamentals is growing," said Komizo, president of Executive Search Partners Co., a Tokyo-based recruitment firm.
Nomura's freshmen will work in the brokerage, investment banking, global markets, research and compliance departments, said Kenji Yamashita, a spokesman for Japan's biggest securities firm. It had earlier planned to hire 570, he said.
SMBC Nikko, part of Sumitomo Mitsui Financial Group Inc., Japan's second-biggest bank by market value, was going to recruit 560, said spokesman Kouichi Shibata.
Secure Manpower
"We had to secure the manpower to expand the operations for individual and corporate clients as the lending and brokerage units work more closely together," Takayuki Okuma, manager of recruiting at SMBC Nikko, said in an e-mail.
Daiwa's recruitment was in line with its initial plan for 750, spokesman Shinji Nakagawa said.
Under Chief Executive Officer Koji Nagai, Nomura is shifting the focus of its domestic brokerage to asset management from securities trading. Assets under management climbed to a record 105 trillion yen ($877 billion) in January, and Nagai wants to expand the total to 150 trillion yen by March 2020.
Japan's labor market is the tightest in 23 years, with 1.14 jobs available to each applicant in January, government figures show. That's beginning to translate into higher wages.
Most graduates starting at Nomura next month will receive a monthly salary of 232,300 yen, about 11 percent more than their predecessors were paid a year earlier. Its domestic brokerage is raising base pay for 3,700 employees by about 2 percent on average to retain younger staff, it said in January.
Stocks Rising
The Nikkei 225 climbed 1.2 percent to 18,971 at the close of trading in Tokyo on Friday, the highest since April 2000. Nomura rose 2.7 percent, the most since Dec. 19, extending gains this year to 4.9 percent. Sumitomo Mitsui has advanced 10 percent in 2015 and Daiwa is up 1.2 percent.
Japanese institutional investors are switching to stocks as Prime Minister Shinzo Abe tries to vanquish deflation.
The Government Pension Investment Fund, the world's largest investor of retirement savings, will put 25 percent of its assets into Japanese equities, it said on Oct. 31. The Federation of National Public Service Personnel Mutual Aid Associations, a pension fund manager for civil servants, said last month that it will do the same.
Net income at Nomura climbed to 70 billion yen in the three months ended December, the highest in seven quarters. SMBC Nikko posted profit of 22 billion yen, the most in six quarters.
Before it's here, it's on the Bloomberg Terminal.
LEARN MORE