Iron Ore Slumps Below $60 as China Cuts Target, Surplus Expands
Jasmine Ng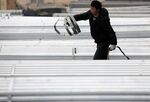 Iron ore sank below $60 a metric ton after China set the lowest target for economic growth in more than 15 years, highlighting the slowdown in the largest buyer as low-cost supplies expand further amid a glut. Miners' shares fell.
Ore with 62 percent content at Qingdao retreated 3.6 percent to $59.73 a dry ton on Thursday, according to Metal Bulletin Ltd. The price, which declined for a third day in the longest losing streak since Jan. 28, is at the lowest level since at least May 2009, when the daily pricing series started.
Iron ore extended losses this year after falling 47 percent in 2014 as miners including Rio Tinto Group increased low-cost supply just as China slowed. The government's target of about 7 percent, down from last year's aspiration of about 7.5 percent, was given in Premier Li Keqiang's work report at the annual meeting of the legislature in Beijing. Citigroup Inc. raised the prospect of sub-$60 iron ore in 2015 last November, and is among banks that cut price forecasts further since January.
"The lower growth target is weighing on sentiment," Wu Zhili, an analyst at Shenhua Futures Co. in Shenzhen, China, said by phone on Friday. "The government also asked some steel mills to cut output in their bid to curb pollution. This may reduce demand for steel-making raw materials such as iron ore."
Rio's shares dropped 1.2 percent to A$60.39 at the close of trading in Sydney on Friday. The stock is 6.2 percent lower this week, while BHP fell 3 percent in the period and Fortescue Metals Group Ltd. declined 14 percent.
Property Slump
China is the largest steelmaker and accounts for more than two-thirds of global iron ore imports. Economic headwinds include a property slump and excess industrial capacity. While the government has vowed to move away from expansion at all costs, the central bank cut interest rates for the second time in three months at the weekend to support growth.
"Given China's size, 7 percent growth is still a strong rate and would see China continue to contribute significantly to global demand for commodities," said Paul Bloxham, chief Australia economist at HSBC Holdings Plc in Sydney. "We see the current level of iron ore prices, of around $60 a ton, as around the low point for the price, and expect prices to stabilize around this level before potentially lifting."
Crude-steel output in China expanded at weakest pace last year in data going back 24 years, statistics bureau figures show. Peak steel arrives in China this year, according to Morgan Stanley, which forecast that production and consumption of the alloy will decline after 2015 as the economy matures.
The iron ore glut will double to a record 85 million tons this year, Australia & New Zealand Banking Group Ltd. said on Feb. 11. The surplus will surge to 437 million tons in 2018, according to Morgan Stanley.
More Capacity
Additional supply is coming in 2015 as Rio, BHP Billiton Ltd. and Vale SA bring on more capacity, seeking to squeeze higher-cost rivals and boost their market share while reducing costs. Rio Chief Executive Officer Sam Walsh said last month that if his company cut iron ore output after prices fell, forfeited supply would be made up by rivals with higher costs.
"The global surplus looks likely to get worse this year as the major producers go on expanding," said Wu at Shenhua Futures. "Prices could decline further as demand hasn't improved after the Lunar New Year holiday," he said, referring to the week-long break that ended Feb. 24
Sub-$60 iron ore this year was also forecast in December by Roubini Global Economics LLC. The same month, Australian Treasurer Joe Hockey said the government was forecasting prices would remain at about $60 for the "foreseeable future."
Before it's here, it's on the Bloomberg Terminal.
LEARN MORE