Insider Trading Investigators Have a Blind Spot
Liam Vaughan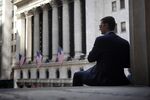 Over the past year, a record 266 companies have spun off divisions in a trend bankers are calling "Spinmania." If history is any guide, about 35 of those deals will have leaked undetected to inside traders.
A new study by a team of finance professors suggests one in eight corporate spinoffs and divestments in the U.S. between 1996 and the end of 2013 was preceded by suspicious trading in options markets. The Securities and Exchange Commission hasn't brought a single case relating to such trading then or since, according to the report, due to be published later this month.
"Spinoffs are accompanied by a fairly predictable pop in the parent company's share price," Marti Subrahmanyam, a senior professor at New York University's Leonard Stern Business School who co-authored the study, said in a telephone interview. "Yet there seems to be little focus on this area. Authorities need to adopt a more systematic approach and acknowledge that every type of announcement is fraught with the possibility of insider dealing."
Regulators on both sides of the Atlantic have made tackling insider trading a priority in recent years, with high-profile scalps at hedge funds SAC Capital Advisors LP and Galleon Group LLC in the U.S., and Moore Capital Management LLC in the U.K. Those actions have centered on illegal trading on tips about mergers and acquisitions, where the impact of an announcement on a company's share price tends to be larger than in a spinoff.
'Statistically Abnormal'
Spinoffs are when a company divests part of its business, usually via a sale or distribution of new shares, to create a new company. Patrick Augustin of McGill University in Montreal, Subrahmanyam and Menachem Brenner of NYU Stern and Jianfeng Hu of Singapore Management University analyzed trading in stocks, options, bonds and credit default swaps ahead of 426 such deals in the 18 years to December 2013.
They found a "statistically abnormal" jump in the volume of options traded in the five days before a spinoff announcement 13 percent of the time. There were no significant corresponding increases in the trading of any other instruments.
One reason for the spike in options may be that the returns available to traders with advance knowledge of a spinoff tend to be much lower than for those who get wind of a merger or acquisition. A parent company's stock price undergoes an average "abnormal return" of 2 percent when a spinoff is announced, versus a jump of about 16 percent in the target company of a takeover approach. Options can boost those returns. Since many are traded over-the-counter and away from registered exchanges, they are also harder for the authorities to monitor.
Spinoff Surge
The report follows a similar study published in May by Augustin, Subrahmanyam and Brenner into insider trading ahead of standard M&A transactions. It found suspicious trading activity before deal announcements about a quarter of the time.
The new study is particularly timely. Spinoff numbers are at an unprecedented high as activist shareholders push to squeeze value by breaking-up unwieldy conglomerates.
Last year, according to data compiled by Bloomberg, 248 spinoffs were announced globally -- the most on record. In September, online marketplace EBay Inc. said it would spin off its payments division PayPal and German drugmaker Bayer AG announced plans to list its plastics unit. Two months later, consumer group Unilever Plc said its sandwich-spread operations in the U.S. and Europe will become a standalone unit.
There's no indication of improper trading before those announcements.
Better Models
Despite this surge, cases involving trading ahead of spinoffs are largely non-existent. Since 1995, the SEC has filed just two such cases and both concerned the illegal purchase of shares rather than options. One was against Galleon fund manager Raj Rajaratnman, who bought 3.25 million shares in Advanced Micro Devices Inc. before it spun off its manufacturing business in October 2008. The other related to a psychiatrist who invested in a Florida technology company in 1996 after a client tipped him off to a forthcoming spinoff.
John Nester, a spokesman for the SEC in Washington, declined to comment on the report.
In the U.S., much of the day-to-day responsibility for detecting suspicious trading falls to the Financial Industry Regulatory Authority, a regulator funded by fees paid by the brokerage industry. Finra monitors markets and trading to identify suspicious activity and refers its findings to the SEC.
Finra reviews "options surrounding M&A activity, and any material news announcement by an issuer gets scrutinized for potential insider trading," George Smaragdis, a spokesman for the regulator, said in an e-mailed statement. He declined to comment on the professors' findings.
A new computer system sought by the SEC could help improve their hit-rate. Six groups of companies including Computer Sciences Corp., Hewlett Packard Co., Finra, SunGard Data Systems Inc. and Google Inc., and Thesys Technologies LLC are bidding to build the system, known as the Consolidated Audit Trail, or CAT. The audit trail will allow regulators to track every stock quote, order, and trade, including when and where transactions occur, the brokers who handle them, and the customers who are buying and selling.
The project won't be up and running until 2018 at the earliest.
Before it's here, it's on the Bloomberg Terminal.
LEARN MORE