business
What's Killing White Women?
The mortality rate for white women in the U.S. has surged
By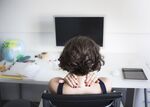 White women in the U.S. have historically enjoyed low mortality rates. But in recent years, the death rate for adult white women 15 to 54 years old has increased even as the rates for black and Hispanic women have declined, according to a new analysis from the Urban Institute.
Here's a closer look at the death rate for white women from 1999 to 2013, drawn by Urban Institute researchers from the Centers for Disease Control and Prevention's vital-statistics database. 
The researchers focused on women's mortality rates because they're lower than men's and because death rates reflect the overall health of a population. If mortality is increasing, other measures of health are also getting worse.
Here's a look at the change in mortality for women across races:

Black women have a much higher mortality rate, but it has declined significantly—23 percent since 1999. Hispanic women also posted declines. (Hispanics of all age groups, both men and women, have lower mortality rates than average, a demographic phenomenon known as the Hispanic paradox.)
Part of the jump in the death rate for whites is explained by the epidemic of prescription painkiller abuse and overdoses that disproportionately affected whites. But that accounts for only half the total increase, according to the report. Other causes of death on the rise include suicide and respiratory disease. Some declined, including traffic deaths, homicides, and the cancers most closely linked to smoking.
Though overdose deaths among blacks also increased, the rise was smaller. And overall mortality for black women fell dramatically, with declines in deaths from cardiovascular disease, infectious disease, and cancers, among other causes. 
Each of these broad racial and ethnic categories is a big group, with different social and geographic circumstances. So the analysis doesn't mean "that death rates are rising for all white women, everywhere in the U.S.," notes the Urban Institute, a Washington, DC, think tank. Other research has shown that longevity is decreasing for poorer and less-educated white women.
We don't have enough evidence to tell whether the increase is a temporary one linked to painkiller abuse or if it's a long-term shift. The authors cite examples of other short-term spikes in mortality. Deaths increased for black women in the U.S. during the crack epidemic. For Russian men, death rates linked to alcoholism are still high but appear to be declining.
A grimmer possibility: The pattern may reflect "a systematic reversal in the long-term trend of mortality decline" for white women, according to the Urban Institute paper. Such a shift could be linked to social and economic circumstances. Poorer people generally have poorer health for a variety of reasons, and growing inequality could be weighing on death rates.
"It's possible that as this group of women ages, there could be a reversal of a very long-term decline in the death rate," said Nan Marie Astone, a senior fellow at the Urban Institute and the lead author of the report. America isn't really used to the idea of declining life expectancy. The next few decades might change that.
Before it's here, it's on the Bloomberg Terminal.
LEARN MORE