Hanergy Rises to Record as Volume Surges Amid Mainland Buys
Kana Nishizawa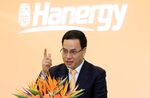 Hanergy Thin Film Power Group Ltd., China's biggest solar manufacturer by market value, surged as much as 42 percent to a record on the highest volume in the Hang Seng Composite Index.
The company said on Tuesday that 2014 earnings probably rose more than 55 percent due to a "significant" increase in revenue and "substantial" gains from the disposal of five power projects in China. The stock will be added to FTSE's Asia Pacific ex-Japan large-cap gauge on March 20, the index provider said in a separate statement.
Hanergy surged 519 percent over the past twelve months to lead gains on the Hang Seng Composite, and is now valued at about $40 billion, more than Hong Kong's Hang Seng Bank Ltd. Mainland investors bought a net HK$392.9 million ($50.7 million) of Hanergy shares through the Shanghai-Hong Kong exchange link on the first three days of the week. On Tuesday and Wednesday, turnover in Hanergy through the connect was at least four times higher than any other Hong Kong stock.
"This is speculative trade," said Francis Lun, chief executive officer of Hong Kong-based Geo Securities Ltd.
Hanergy climbed 14 percent to HK$7.30 at the close in Hong Kong, its fourth straight day of gains. The stock led gains in the MSCI Asia Pacific Index, which slipped 0.1 percent.
Two calls to Hanergy's investor relations department and an e-mail weren't immediately answered. Hong Kong Exchanges & Clearing Ltd. declined to comment on the move in Hanergy shares.
Short Interest
Shares of alternative energy companies in China have been rising this week after a documentary investigating the fallout of poor air quality drew millions of viewers, putting a renewed spotlight on pollution as the nation's lawmakers gather for an annual policy meeting in Beijing.
Hanergy last month downplayed a report in the Financial Times that questioned how it reports sales. The company, controlled by billionaire Li Hejun, said its Beijing-based parent has repaid the majority of the HK$13.9 billion it owes for building solar production plants and that the rest will come when projects are finished. It's also seeking to diversify revenue beyond parent Hanergy Holding Group Ltd., the Hong Kong-listed unit said.
More than 580 million Hanergy shares changed hands today. GCL-Poly Energy Holdings Ltd., with 290 million shares traded, had the fifth-highest volume.
Short interest in Hanergy was 4.1 percent of outstanding shares as of March 3, compared with 4 percent at the start of the year, according to data compiled by Markit Group Ltd. and Bloomberg.
Before it's here, it's on the Bloomberg Terminal.
LEARN MORE