Hundreds of Big Companies Urge Supreme Court to Back Gay Marriage
Apple, BlackRock, General Electric, and many more — 379 in all, as of Wednesday night — ask the high court to strike down bans
by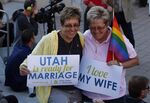 Large businesses from Main Street to Wall Street are urging the U.S. Supreme Court to strike down laws banning same-sex marriage.
In a friend-of-the-court brief expected to be filed on Thursday, hundreds of banks and other corporations argue that states that still prohibit gay unions "hamper employer efforts to recruit and retain the most talented workforce possible in those states."
The justices will hear oral arguments on the push for marriage equality in late April. The court is expected to rule by late June.
Major companies and financial institutions previously have backed the campaign to recognize same-sex unions, so the brief isn't a surprise. What's impressive is that as of Wednesday night, 379 corporations and employer organizations had signed on to the amicus brief, representing industries from technology to financial services, transportation to consumer products, retail to restaurants to sports.
Among those that signed on: Aetna, Alcoa, Amazon.com, American Airlines, American Express, Apple, AT&T, Bank of America, Barclays, BlackRock, Bristol-Myers Squibb, Capital One, Cardinal Health, Chubb, Cigna, Cisco, Citigroup, Colgate-Palmolive, ConAgra, Corning, Credit Suisse Securities, CVS Health, Delta Air Lines, Deutsche Bank, Dow Chemical, EBay, Facebook, General Electric, General Mills, GlaxoSmithKline, Goldman Sachs, Google, Hartford Financial Services, Hilton, HSBC, Intuit, Johnson & Johnson, JPMorgan Chase, Kimberly-Clark, KPMG, Levi Strauss, Marriott, Marsh & McLennan, Massachusetts Mutual, McKinsey, Microsoft, MillerCoors, Morgan Stanley, Nationwide Mutual, the New England Patriots, New York Life, Nike, Northrop Grumman, Office Depot, Oracle, Orbitz, Pandora, PepsiCo, Pfizer, PricewaterhouseCoopers, Procter & Gamble, Prudential, Qualcomm, RBC Capital Markets, the San Francisco Giants, Staples, Symantec, the Tampa Bay Rays, Target, TD Bank, Twitter, UBS, United Airlines, Verizon, Walt Disney, Wells Fargo, and Zynga. 
Bloomberg LP, owner of Bloomberg Business, also signed the brief.
The full brief, with all the companies that signed on, is here.
In friend-of-the-court briefs, the Supreme Court permits interested parties not directly involved in a case to offer their views. 
Written by the management-side employment law firm Morgan, Lewis & Bockius, the amicus brief strikes a pragmatic tone. With 37 states allowing gay marriage and the rest banning it, employers face costly uncertainty and administrative complexities, the brief argues. "The burden imposed by inconsistent and discriminatory state laws of having to administer complicated schemes to account for differential treatment of similarly situated employees breeds unnecessary confusion, tension, and diminished employee morale."
Just last fall the Supreme Court sidestepped the gay marriage controversy when it declined to review cases arising from federal appellate panels in Chicago, Denver, and Richmond, Va. Each of those lower courts had ruled that the constitutional guarantee of "equal protection" covers same-sex couples seeking to wed.
Then a panel in Cincinnati went the other way, declaring that gay couples do not have a fundamental right to marry. That created a conflict among lower courts. Resolving such conflicts is one of the main reasons the Supreme Court agrees to hear cases. In January the justices said they would use disputes involving gay couples from Michigan, Ohio, Kentucky, and Tennessee to announce a nationwide rule.
As of this morning, business has cast its vote.
Before it's here, it's on the Bloomberg Terminal.
LEARN MORE