Christie Accepts $225 Million to Settle Exxon Mobil Case
David Voreacos and Terrence Dopp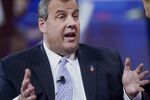 New Jersey Governor Chris Christie's administration agreed to accept $225 million from Exxon Mobil Corp. to end litigation over decades-old pollution, a settlement that Democratic lawmakers and environmental groups called inadequate.
Christie's acting attorney general and top environmental regulator defended the accord after the state sought damages of $8.9 billion to resolve a 2004 case over the company's refinery and petrochemical plant in Bayonne and Linden. The accord would pay for Exxon's damage to natural resources. Exxon agreed in 1991 to clean up almost 1,600 acres near New York Harbor.
"This important settlement, which came about because this administration aggressively pushed the case to trial, is the result of long-fought settlement negotiations," acting Attorney General John Hoffman said Thursday in a statement. "It ensures the continuation of the Exxon Mobil-funded remediation work at those contaminated sites."
The resolution has drawn criticism since the New York Times reported on Feb. 27 that the Department of Environmental Protection settled for $250 million. It still needs approval by a state court judge who, when the settlement came, was weighing damages after an eight-month trial last year. The accord hasn't been published yet.
"This was a case that the state was going to win," said Jeff Tittel, director of the New Jersey Sierra Club. "They settled it for 3 cents on the dollar. That's the biggest corporate subsidy in state history and it hurts every taxpayer and the environment."
Salt Marshes
DEP Commissioner Bob Martin said in the statement that the settlement is the largest in state history and is six times greater than the previous biggest corporate accord for natural-resources damages.
In a court filing after the trial, the DEP sought $2.6 billion to clean and restore the sites by removing 9 million tons of contaminated soil, as well as sediment from surrounding creeks, buildings, tanks and pipes. It sought to restore salt marshes and forest degraded more than a century ago. It also sought $6.3 billion in compensatory damages.
"There is a tremendous opportunity present at the Bayway and Bayonne sites to restore salt marsh habitats," lawyers for the DEP wrote in its 371-page filing. "The Department has consistently made conservative estimates in calculating injury and compensatory damages."
Compensatory Damages
In a Nov. 26 filing, Exxon's lawyers belittled the state's case, saying the DEP's argument that "contamination equals injury" has no basis in science or state law or policy. It said the DEP's calculation of compensatory damages based on a "habitat equivalency analysis" is unprecedented.
"This court would be the first court in the entire country to use a HEA to award damages for a natural resource injury caused by a discharge of hazardous substances," Exxon wrote.
Former DEP Commissioner Bradley Campbell, who filed the case in 2004, called the accord an "embarrassment," and "even more troubling are the circumstances surrounding the decision."
"Governor Christie left billions on the table, if the testimony of the state's own experts is to be believed," Campbell said in a New York Times op-ed article.
'Baldly Political'
Kevin Roberts, a spokesman for Christie, called Campbell's comments "irresponsible, disingenuous and baldly political" and said they came from someone who worked for Democratic administrations.
Lee Moore, Hoffman's spokesman, didn't immediately return calls seeking comment on the settlement. Alan Jeffers, a spokesman for Irving, Texas-based Exxon, declined to comment on the settlement.
State Senator Raymond Lesniak and Senate President Stephen Sweeney, both Democrats, said this week that they will try to block the deal. Two Assembly Democrats, Speaker Vincent Prieto and John McKeon, chairman of the Judiciary Committee, said they will hold a hearing on March 19 about the settlement.
Lesniak, who grew up near the refinery's smokestacks, said the settlement is "even worse than we thought."
"This was the single greatest environmental damage done to this state," Lesniak, of Elizabeth, said in an interview.
Exxon contributed $500,000 to the Republican Governors Association last year when Christie, a Republican, was chairman, according to the Washington-based Center for Responsive Politics website OpenSecrets.org.
The state sued in 2004 and 2005 under the New Jersey Spill Compensation and Control Act.
Exxon and its predecessors ran the Linden facility, known as Bayway, on 1,300 acres from 1909 to 1972, according to a 2008 Superior Court decision. The Bayonne refinery, on 288 acres, was run by Exxon and its predecessors from 1879 to 1972, according to the opinion. For decades, they were connected by pipeline and known as the Jersey Works.
The case is New Jersey Department of Environmental Protection v. Exxon Mobil, L-3026-04, Superior Court of New Jersey, Union County (Elizabeth).
Before it's here, it's on the Bloomberg Terminal.
LEARN MORE