Denmark's Euro Love Affair a Lesson to Investors in Commitment
The nation's 33-year-old peg won't be shaken easily
by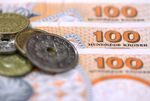 After rebuffing two invitations to join the euro, and amid lawmaker's reluctance to call another vote, Danes seemed not to think too highly of Europe's common currency.
At least that's how things looked from a distance, and it's what may have led investors to speculate Denmark may just as well break things off with the euro like the Swiss did on Jan. 15.
Nothing could be further from the truth.
As the Danish central bank put up the toughest defense of the peg (its loophole to not adopting the euro) against investors betting it would follow the Swiss, support for the currency regime has poured in from every corner of Denmark.
The government, lawmakers, businesses and unions want to stay as close to the European Central Bank as possible - and they're prepared to go all the way. Not for love but for trade, money and fiscal stability.
``We don't like the euro but we back the peg 100 percent as it served Denmark well through the years,'' said Rene Christensen, the financial affairs spokesman of the Danish People's Party, Denmark's most EU-skeptic group. ``The peg isn't about the euro, it's about trade so it's good for the economy.
Denmark's ties to the euro, and before it the deutschmark, dates back to the early 1980s and have made Danish economic policy what it is today. Exports have since climbed six-fold with more than 60 percent of all foreign Danish sales abroad headed for other EU nations.

The peg stripped lawmakers of the once-popular option to devalue the krone rather than fixing economic policies, and has through the years ``created a foundation for fiscal discipline and stable economic growth, '' Finance Minister Bjarne Corydon said in an interview in Copenhagen. ``That's why the peg enjoys such massive support.''
In other words, the peg shaped Danish economic policy for more than a quarter century and transformed the nation from one of Europe's most indebted states to one of the least. Government debt is less than 24 percent of GDP and the central bank has enough cash to suspend borrowing indefinitely to defend the peg. 

Loyalty to the euro-peg pushed Denmark's central bank to dump $25 billion in kroner onto the market last month. Now it says it may not need to intervene, signaling pressure on the krone is starting to ease.
Whatever comes next, currency traders and investors should beware: Denmark is in love.
Before it's here, it's on the Bloomberg Terminal.
LEARN MORE