China's Leaders Grapple With Inequality as Growth Weakens
Bloomberg News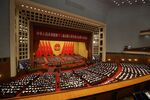 More than three decades after China's Communist Party allowed some people to get rich first, the country's top leaders are still grappling with how to spread the benefits of the economic boom such freedoms triggered.
"The only way to build a country is to enrich its people," said Premier Li Keqiang at the annual meeting of the legislature in Beijing Thursday, flagging income distribution as among primary concerns. He also vowed to extend a campaign against corrupt officials who enrich themselves, a clampdown that's spread to the military and state-owned enterprises. A complementary step: cutting pay for public-company chiefs.
A broadening in prosperity is central to prospects for consumption to take over as a growth driver as debt-fueled investment is reined in. Li on Thursday announced a target of about 7 percent for this year's economic growth, which would be the slowest annual expansion since 1990.
"Inequality is a big concern for Chinese policy makers," said Liu Li-Gang, chief economist for greater China at Australia & New Zealand Banking Group Ltd. in Hong Kong. "China calls itself a socialist economy but its Gini ratio is now as high as the U.S.," he said, referring to a globally comparative measure of inequality.
The government has made some progress with policy reforms, for example in the area of medical insurance and rules on land ownership, and will likely do more, Liu said.
In 2013, the government set plans to squeeze the wealth gap by aiming for minimum wages of at least 40 percent of average salaries by 2015, a target that's unlikely to be met as the economy's expansion slows.
Policy Tension
"The 40 percent is a national goal, and local governments have different thoughts," said Zeng Xiangquan, director of the Chinese Institute of Employment Research at Renmin University of China. "Local governments used to suppress minimum wage levels to shave labor costs to attract business, then in recent years they had to raise the level rapidly to retain labor for businesses, and now they need to find the balance."
At least six regions have raised their minimum wage levels this year, the highest of which is 2,030 yuan per month ($324) in the southern coastal city of Shenzhen. China doesn't have a national minimum wage standard, and each province, city or district can have a different monthly rate.
While minimum-wage growth is outstripping the pace of gross domestic product expansion, the increases are slowing. In 2014, the weighted average of minimum wages climbed 14 percent, according to China's Ministry of Human Resources and Social Security, down from 17 percent in 2013, 20 percent in 2012 and 22 percent in 2011.
Difficult Target
Because those with lower incomes consume a larger portion of their salaries, consumption and growth benefit from a better distribution of income, according to Zhao Yang, chief China economist at Nomura Holdings Inc. in Hong Kong. To meet the government's 40 percent target, minimum wages need to be raised by over 20 percent on a weighted-average basis this year, he estimated.
"That's going to be very difficult," Zhao said.
None of the regions that have announced raises this year have met Zhao's standard. Beijing's minimum wage was increased 10 percent to 1,720 yuan, leaving it less than 30 percent of the city's average wage in the first three quarters of last year.
Shenzhen raised the level 12 percent, down from last year's 13 percent. Sanya, a Miami-like resort town, lifted the minimum salary 13 percent, and Changsha in the populous Hunan province increased by 10 percent. The southern export hub of Guangdong province raised the lowest salaries by 19 percent, largely because there was no increase last year.
Labor Suffers
"That illustrates the weak negotiating power of labor," Zhao said. "While the economy is slowing, financing costs aren't lowered and taxes aren't cut, so only labor suffers the pain of the slowdown."
Gan Li, professor at Texas A&M University and dean of Southwestern University of Finance and Economics, said China's income inequality isn't improving. The nation's Gini co-efficient stayed at 0.61 in the past five years, Gan said, citing a survey he directed of 28,000 households in 29 provinces. A reading of zero equates to perfect equality and 1 represents maximum inequality.
Gan's reading is higher than the official 0.469 last year, which slid slightly from 2013's 0.473. The internationally-accepted danger line that suggests inequality will lead to social unrest is 0.4 percent.
"China's income redistribution is minimal and can't be achieved by raising the minimum wage," Gan said. "Minimum-wage increases help lift low-income workers' salaries, but also hurts their employment."
That's where improved welfare support comes in.
Social Security
"There is no better way to boost consumption than giving money to the poor," Gan said. "Any stimulus, including interest rate cuts, wouldn't be as effective as that."
Premier Li Thursday said personal incomes must increase in step with economic development and the mechanism for adjusting minimum wages will be improved.
Social security will be strengthened with the basic pension benefits for company retirees being increased by 10 percent, he said. Monthly basic pension benefits for rural and non-working urban residents will be raised, he said.
The government will also increase the annual subsidy for medical insurance for rural and non-working urban residents, while premiums for insurance covering things including workplace injury will be lowered, he said.
CIER's Zeng said cutting worker's mandatory monthly contribution to social security accounts and lowering taxes would help spur incomes. An hourly minimum wage should replace monthly rates as that would improve conditions by reducing overtime that many employers demand.
"The key is to limit those at the top, improve those at the bottom and expand those in the middle," said Zeng.
— With assistance by Xiaoqing Pi
Before it's here, it's on the Bloomberg Terminal.
LEARN MORE