China by the Numbers
While the economy is slowing, there's still plenty of demand
by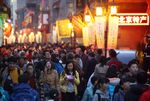 China's Premier Li Keqiang Thursday announced a slower economic growth target of about 7% for 2015. Is that bad news for the world?
Some of the other numbers detailed in his 39-page work report suggest there's still plenty of demand stemming from the world's second-largest economy. Here are a few:
The number of broadband Internet users exceeded 780 million, more than the populations in the euro area and U.S. combined.

An extra 230,000 kilometers (142,915 miles) of roads were built or upgraded in rural areas -- that's longer than five times the circumference of the earth at the equator.
An additional 8,427 kilometers of rail lines were put into operation and the length of high-speed rail up and running reached 16,000 kilometers -- that's now more than 60 percent of the world's total.
Construction started on 7.4 million government-subsidized housing units. If we estimate three people in each, that could house every man, woman and child in Australia.

The number of people living in poverty in rural areas was reduced by 12.32 million last year -- that's more than the population of Greece.
More than 66 million additional people gained access to safe drinking water -- matching France's population.
Farmland under water-saving irrigation increased by 2.23 million hectares -- bigger than Israel's land mass.
The number of newly-registered market entities reached 12.93 million.
This year, the number of college graduates will reach 7.49 million -- almost Switzerland's entire population.
And guess what: There's still "ample room for growth," Li said.
Before it's here, it's on the Bloomberg Terminal.
LEARN MORE