Brazil Soccer Capital Shifts to Site of 7-1 World Cup Drubbing
Tariq Panja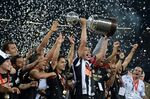 Belmiro Oliveira has been massaging the aching limbs of players at the Atletico Mineiro soccer team for 46 years. In all his time with the Brazilian club he's never known a period like this.
Atletico's intensifying rivalry with neighbor Cruzeiro has left the pair ruling Brazil for two years, turning the southeastern city of Belo Horizonte into the home of the country's best soccer.
On Sunday they meet for the first time since Atletico won last season's Brazil Cup final, a two-game victory that denied Cruzeiro a cup to go along with its league championship. A year earlier Atletico took South America's most-prized club competition as Cruzeiro clinched its first Brazilian championship since 2007.
"It is the first time this happened here, two teams from the same state, the same city winning everything," Oliveira, a 64-year-old with cataracts in both eyes, said while his team worked out at its Cidade do Galo training complex named for its rooster nickname.
Belo Horizonte is the capital of Minas Gerais, a mining center that's the second-most-populous state in Brazil. The birthplace of President Dilma Rousseff was one of the country's earliest planned cities and today hosts international companies including Fiat and ArcelorMittal.
The city's soccer tradition is celebrated locally but overshadowed elsewhere by the media dominance of teams from Rio and Sao Paulo. Belo Horizonte's place on the international soccer map is guaranteed after staging two of the World Cup's biggest surprises. In 1950, the U.S. shocked an England team that featured some of the best players of the era. Sixty-four years later hosts Brazil, the most successful team in tournament history, were hammered 7-1 by Germany.
Pushing Forward
Though Belo Horizonte is split down the middle between those wearing Atletico's black and white colors and its rival's blue, Cruzeiro has enjoyed more regular success while Atletico endured decades of failure including relegation from the top league following its only Brazilian title in 1971.
"We push each other forward," said Rodrigo Resende, head of marketing at MRV Engenharia, Atletico's main backer. The company's billionaire president Rubens Menin is a fan and stepped in to sponsor the team's jersey when Banco BMG SA quit backing both clubs last year. So strong is the rivalry that any traces of blue in PepsiCo Inc.'s logo is removed from advertising boards that skirt Atletico's training field.
During the days between last season's two cup final games, "a craziness" descended on the city, Resende said. "Belo Horizonte stopped, it simply stopped."
Changing Sides
Eduardo Maluf has seen the competition from both sides, becoming Atletico's director of soccer in 2010 after 12 years in the same role at Cruzeiro. First, he had to reassure his wife that their kids wouldn't be picked on if he switched teams.
"I'm not offending anyone," he said. "I came here and won things and I don't make jokes about Cruzeiro, nothing."
Maluf credits the change of fortune to the team's former president, Alexandre Kalil, whose six-year tenure ended in 2014. Kalil signed Ronaldinho in 2012, convincing the two-time world player of the year to take a pay cut after the athlete fell out with management at Flamengo.
With the former Barcelona forward in its ranks, Atletico won the Libertadores cup in front of its own supporters by overturning a 2-0 first game loss to Paraguay's Olimpia, a victory Maluf calls "the biggest and important in Atletico's 100-year history." Fireworks were set off in the city into the next day, while inside the stadium many fans were in tears and raised their hands skywards in prayer, chanting the squad's slogan, "I believe." The game was the richest club match played on Brazilian soil, generating 14.2 million reais ($4.7 million).
Self Focus
Kalil "implanted a philosophy that we forget Cruzeiro and work in a way that would make Atletico grow," Maluf said, while the squad practiced on a new training ground that's among the best in the country. It's a direct consequence of seeing Cruzeiro's success from investing in training infrastructure, according to MRV director Resende.
In his office at Cruzeiro's palm-tree and flower-fringed headquarters known as Toca da Raposa 2, or Fox Den 2 after its mascot, Maluf's counterpart Valdir Barbosa, takes a break from negotiating transfer deals to consider his team's prospects. He predicts a tough year ahead though is proud of how soccer's biggest spenders covet Cruzeiro's talent.
During the off-season the team's three best players -- Everton Ribeiro, Ricardo Goulart and Lucas Silva -- were sold for a combined 40 million euros ($45 million) in an effort to balance the books. Diego Tardelli, Atletico's top scorer, moved to China.
Player Sales
"The proof of the focus on our city can be seen in the transfer market," Barbosa said.
Rio-born Ronaldo, voted the world's best player three times, and known in Brazil as the Phenomenon, made his senior debut at Cruzeiro before moving to Europe in 1994.
The achievements of the Belo Horizonte teams belie their financial situations. According to a report by Amir Somoggi, a management consultant specializing in soccer, they earn about 100 million reais less a year than Flamengo and Corinthians.
Atletico also owes the federal government about 250 million reais after not paying taxes for years, according to financial details released by the club. Authorities seized the proceeds of its 25 million-euro sale of Bernard Duarte to Shakhtar Donetsk in 2013, according to a court filing. Cruzeiro owes about 50 million reais.
The Belo Horizonte teams ranked 8th and 9th in football spending, shelling out about 40 percent less than leaders Corinthians and Sao Paulo, according to a report by Somoggi.
The financial imbalance is likely to worsen as a new television contract favors teams with the biggest fanbase, said Cruzeiro's Barbosa.
"We will arrive at a point where we can't keep up and they'll get too far away," he said.
Before it's here, it's on the Bloomberg Terminal.
LEARN MORE