BofA Sees Bond Traders Making Big Mistake in Underestimating Fed
Lisa Abramowicz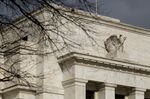 Bank of America Corp. analyst Hans Mikkelsen says bond traders are too comfortable with the idea that borrowing costs will stay low for years to come.
He argues the market is underestimating the Federal Reserve's desire for higher long-term borrowing costs -- and its ability to make that happen.
"The Fed is going to want to see higher long-term interest rates once they start hiking, as well as stocks and credit not rallying," Mikkelsen, head of U.S. investment-grade credit strategy at Bank of America in New York, wrote in a March 2 report. "This view runs counter to consensus."
Just check out 30-year Treasuries to see how much bond buyers have disregarded concerns that rates will rapidly rise. Investors are accepting 2.7 percent to own U.S. debt for three decades, down from 3.9 percent at the beginning of last year. Yields on 10-year Treasuries have fallen to 2.1 percent from their 2014 peak of about 3 percent.
Of course, there's a good argument for why U.S. yields won't budge with those in Europe hitting new lows every day. Mario Draghi said Thursday that the European Central Bank's bond-buying program will include securities with yields higher than its minus 0.2 percent deposit rate, sending longer-term rates in the euro region even lower.
So, why wouldn't international investors find U.S. bonds attractive, given they offer the highest yields relative to German bunds in 25 years?
Dudley Speech
The risk is that the outlook for the American economy is brightening, which should lead to more inflation and tighter monetary policy.
And then there are the policy makers who have indicated they're unhappy with the market's interpretation of their guidance. If the trend persists after U.S. central bankers start raising rates, Federal Reserve Bank of New York President William Dudley said in a Feb. 27 speech that "it would be appropriate to choose a more aggressive path of monetary policy normalization."
While that may mean faster rate increases, the Fed may also choose to shrink its balance sheet by selling bonds, Mikkelsen said.
Credit Suisse Group AG analysts also see Treasury yields rising more than the market is anticipating as soon as the U.S. central bank makes its first move.
"Treasury bonds tend to weaken mostly after the first hike, rather than before," Credit Suisse analysts Joe Prendergast and Jin Wiederkehr wrote in report this week.
That's what some at the Fed want, anyways.
Whether the global backdrop of low yields and economic malaise will allow it is another question.
Before it's here, it's on the Bloomberg Terminal.
LEARN MORE