Inside the $21 Billion War for a Blockbuster Cancer Drug
Cynthia Koons, Ed Hammond and Drew Armstrong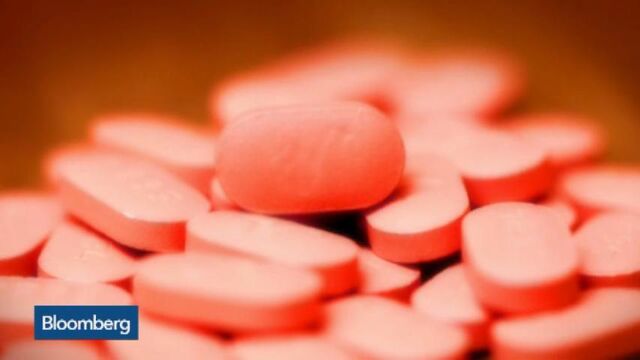 The bidding was close -- so close that even hours before it was announced, neither Johnson & Johnson nor AbbVie Inc. knew whether they'd won a contest for Pharmacyclics Inc. and its jewel, the cancer drug Imbruvica.
It turned out J&J had been outmaneuvered by AbbVie with a $21 billion offer. With three buyers circling, AbbVie Chief Executive Officer Rick Gonzalez found himself in a bidding war that went from start to finish in just three days. The third bidder hasn't been identified.
"We went from first bids on Monday to closing a transaction on Wednesday night," Gonzalez -- who has more than 30 years of experience in the industry -- said in a telephone interview. "I've never seen a single one happen in that period of time."
In a period of dizzying deal-making in the drug industry, few sale processes have been as frenzied as this one. But the same forces are at work: the relentless search by Big Pharma for blockbuster drugs that will keep sales growing.
It is more common for the highest bidder in an auction to take days to negotiate a final agreement -- hammering out the final terms and plans for the combined business. In this case, the sale was done in a matter of hours, with Pharmacyclics's advisers and board of directors meeting over sandwiches to swiftly approve the offer, a person with knowledge of the matter said.
Some industry analysts are already wondering if AbbVie, swept up in the dealmaking, is overpaying for Pharmacyclics. Gonzalez won with an offer of $261.25 a share -- more than double the company's share price at the start of the year. J&J, which jointly markets Imbruvica with Pharmacyclics, had offered $250 a share, people with knowledge of the matter have said.
Overheated Competition
That's a sign that competition for Pharmacyclics got overheated, Geoffrey Porges, a Sanford C. Bernstein & Co. analyst, said in a note to clients. He pegged the real value of Pharmacyclics to a buyer in the $220 to $230 a share range.
"The premium here may be explained by AbbVie's desperation," he said. "What doesn't really make sense to us is AbbVie prevailing over PCYC's partner and natural buyer, JNJ," he said.
Because of their Imbruvica partnership, J&J was a natural candidate to seal the deal. Yet AbbVie, seeking to reduce its reliance on best-selling rheumatoid arthritis treatment Humira, was willing to go higher.
"I know everybody is speculating this is an awfully high price," said Gonzalez, adding that disclosure of the rival bids will show it was competitive.
January Dinner
AbbVie plans to use the infrastructure Pharmacyclics has in cancer to help sell its own drugs in the future, like ABT-199, which also treats blood cancers.
"What we didn't have is an on-market asset that could build the commercial infrastructure," Gonzalez said. "It has the ability to jump-start our launch with our own pipeline."
The sale of Pharmacyclics didn't start out with such intensity. Gonzalez was invited to bid for Pharmacyclics in January, over dinner with the Sunnyvale, California-based company's CEO Bob Duggan. What followed was a more typical courtship, rounds of meetings and due diligence, and a whittling down of potential bidders by Pharmacyclics advisers, Gonzalez said.
Protecting Employees
Duggan made clear to bidders that in addition to obtaining the highest price, he was concerned with protecting the company's 600 employees, said a person with knowledge of the process. Gonzalez persuaded Duggan that his staff would be part of the merged company, helping clinch the deal, the person said, asking not to be identified discussing private information.
"We're not doing this to create any kind of synergies," Gonzalez said on a conference call Thursday. "In fact, I'd say the opposite. We will set up Pharmacyclics as a center of excellence and build upon it."
Including Abbvie's purchase, there have been nearly $71 billion of takeovers of biotechnology, pharmaceutical and health-care products companies so far this year as large drugmakers look to replace older products. These deals follow a record $319 billion of deals in 2014, data compiled by Bloomberg show.
Bidding for cancer assets has grown increasingly competitive as drugmakers are able to command ever-higher prices for some of the newest treatments for the disease.
Immunotherapy Combinations
A key element in the race to snap up oncology assets is a new type of treatment called immunotherapies that are starting to hit the market. The therapies, which trigger the body's immune system to fight cancer cells, are expected to be worth $30 billion or more in the next decade and have shown remarkable responses in patients who have failed multiple prior treatments.
Imbruvica is not an immunotherapy, but has the potential to be used in combination with those drugs. Imbruvica, which costs about $100,000 a year and avoids certain serious side effects of chemotherapy, is already approved for four different blood cancer uses and is being tested in a number of others.
Before it's here, it's on the Bloomberg Terminal.
LEARN MORE