Uber Ordered to Halt Ride-Sharing Pilot Program in Japan
Ma Jie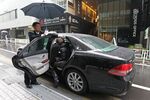 Japan's transport ministry ordered Uber Technologies Inc. to stop a ride-sharing pilot program in southern Fukuoka city, deepening the regulatory challenges the startup company faces globally.
The San Francisco-based company was told to stop the trial operation of Everyone's Uber, a program that allows users in Fukuoka to share rides, as soon as possible because it violates the nation's road transportation law, ministry official Hidetaka Sakai said by phone Wednesday. Uber said it's revising the program and is in talks to address regulatory concerns.
The order is a fresh blow to Uber, whose ride-sharing functions are also under scrutiny in cities from Paris to Seoul. Until now, Uber had avoided regulatory obstacles in Japan by working with taxi operators and car-hire companies in Tokyo. The Fukuoka pilot program marked Uber's first expansion in the country outside its capital, where the company faces growing competition from local taxi companies' apps.
Uber will revise its compensation model, which reimburses drivers for the cost of participating in the program, and will continue to negotiate with authorities, Keiko Kitao, a company spokeswoman, said in an e-mailed statement.
The purpose of the pilot program, started jointly on Feb. 5 with the Kyushu Technology Licensing Organization, was to collect data to understand local transportation needs, Masami Takahashi, chief executive officer of Uber's Japan unit, said in an interview last month.
Local Law
While Uber has argued it complies with the law because passengers don't pay drivers, the program is still illegal because it allows drivers who don't have taxi licenses to make money by providing transportation service, said Sakai, the transport ministry official.
Uber's presence in Tokyo is still small, partly due to increasing competition from local taxi operators and the city's availability of 50,000 taxis -- almost four times the number in New York.
Among Uber's local rivals are apps introduced by cab firm Nihon Kotsu Co., the nation's largest taxi company, as well as the Tokyo Hire-Taxi Association.
In January, Nihon Kotsu tied up with Line Corp. to start taxi hailing service on Line's popular chat app. About 3,340 Nihon Kotsu taxis in the Tokyo region will be equipped to pick up customers using Line Taxi. The service will expand to include almost 23,000 taxis owned by Nihon Kotsu's network nationwide.
Tokyo Hire-Taxi Association's app Takkun, which started operations later than Uber, now has the largest fleet in the city. It's working with eight member taxi companies, with the total fleet reaching 11,000 vehicles and covering 55 percent of the taxis in the city by March, the association said on its website. An English version targets rising inbound tourists, competing with Uber for English-speaking users.
Before it's here, it's on the Bloomberg Terminal.
LEARN MORE