The Ferrari 488 GTB Is the Most Beautiful Car in Geneva
It's also the first major turbocharged car the marque has produced in decades
by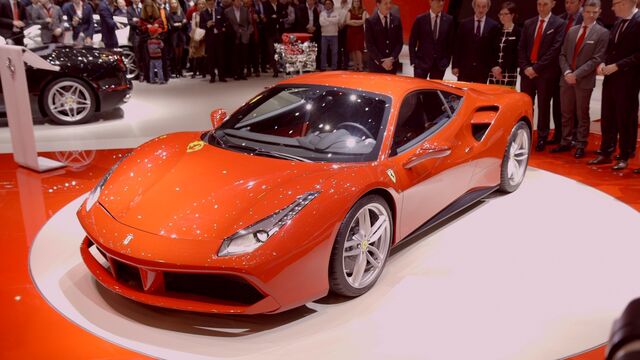 On Tuesday in Geneva, Ferrari launched the first major turbocharged car it has made in decades: the 488 GTB. 
It also happens to be the most beautiful car on the show floor. 

The nose of the thing rounds as it reaches the hips, and the delicately sculpted air vents along the side look elegant in Ferrari red. 
"Ferrari has a meaning," company boss Amedeo Felisa told reporters on Tuesday morning. "We have to have the best and most beautiful car on the market."
So far, so good. The 488 GTB has a brand new look and a new engine, both derived from the latest F1 racing technology. But in its stunning face and muscular haunches, you can also see a direct relation to Ferraris as far back as the 1975 308 GTB. 
"It's meant to create the emotion typical of all of our Ferrari cars," Felisa said. 
A New Turbocharge
This coupe is the replacement for the 458 Italia, which is fitting because it's considerably lighter and more powerful (by 100 horsepower) than its predecessor. It has a 670-hp rear-placed V8 engine and a 0- to 60-mile-per-hour sprint time of three seconds flat. Top speed is 205mph. 

Most notable, for purists at least, is the fact that Ferrari claims it has not kowtowed to the usual detriments of turbocharging: a lagging engine response time and an anemic engine note. 
In fact, Ferrari assured reporters, the company has obsessed on maintaining the distinct Ferrari scream and its instantaneous throttle response in this latest of its models. "Very deep and then growing," Felisa described it. 
I haven't driven it yet, so I can't say for sure. But I have hope. 

Before it's here, it's on the Bloomberg Terminal.
LEARN MORE