Skymark Airlines Sees Profit by July on Cost Reductions
Monami Yui and Kiyotaka Matsuda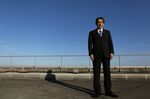 Skymark Airlines Inc. expects to post an operating income by July as profitability has improved after the bankrupt carrier stopped using large aircraft and pared costs, President Masakazu Arimori said.
Skymark may consider transferring the 10 leases it holds for the large Airbus Group NV A330 aircraft to potential airline partners, Arimori said in an interview in Tokyo on Wednesday. The airline, which grounded five A330 planes after filing for bankruptcy protection in January, also has the options of subleasing and code-sharing to cut costs, he said. Skymark has five more A330 planes due for delivery this year.
"Earnings are recovering faster than expected," said Arimori, 58. "We may be able to achieve operating profit in May. By July, definitely."
Arimori has cut flights and pared expenses to help lift margins at the airline as it prepares to present a restructuring plan by the end of May. Facing stiff competition and higher leasing costs due to the weaker yen, Skymark sought bankruptcy protection with 71 billion yen ($594 million) in liabilities after a decision to purchase six Airbus A380 superjumbos flopped last year.
Private-equity firm Integral Corp. is assisting Skymark's turnaround, and the airline is seeking other partners as well. ANA Holdings Inc., Orix Corp. and H.I.S. Co. have all said they intend to support Skymark in some manner. AirAsia Bhd. has also applied to support the Japanese carrier, Transport Minister Akihiro Ohta said last month.
Improving Profitability
Skymark's profitability has been improving since the bankruptcy filing and the A330 grounding, Arimori said. Weekly gross profit rose to 781 million yen in the seven days ended Feb. 21, from 245 million yen in the week through Jan. 28, as the number of passengers increased 19 percent during that period to 14,864, Arimori said.
The airline has halted unprofitable routes since the bankruptcy filing, paring daily flights to 128 from 152. Skymark wouldn't need code-share flights with other airlines as long as it only operates smaller Boeing Co. 737 planes, Arimori said.
The airline still holds 36 takeoff and landing slots for local service from Tokyo's Haneda airport, an asset worth about 72 billion yen in annual revenue, according to Hiroshi Hasegawa, an analyst at SMBC Nikko Securities Inc. in Tokyo.
Rights to Haneda are lucrative because it's much closer than Narita airport to the center of Tokyo. With 46 landings and takeoffs every hour, Haneda is the preferred location for business travelers and is the world's fourth-busiest aerodrome, according to the International Air Transport Association.
Arimori, who was promoted from chief financial officer to president when the airline declared bankruptcy, also said he expects future partners to help with aircraft maintenance.
Skymark's bankruptcy filing came five years after Japan Airlines Corp. became the first major Asian flag-carrier to file for bankruptcy, seeking protection from creditors with 2.32 trillion yen in liabilities. JAL successfully re-listed in 2012.
If approved by creditors, Skymark would start implementation of the recovery plan by the end of July, the company said last month.
"We'll do our best to maximize repayment to our creditors," Arimori said.
Before it's here, it's on the Bloomberg Terminal.
LEARN MORE