Saudi Arabia Vows to Keep Pumping as Oil Plan Is Successful
Grant Smith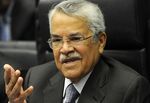 Saudi Arabia pledged to supply as much oil as its customers need and sees no sign their requirements will slow down as OPEC's strategy to defend market share proves successful.
The world's biggest oil exporter will only cut output if customers refuse to buy its crude, which is unlikely because Saudi Arabia has the most reliable supply, Oil Minister Ali al-Naimi said in Berlin on Wednesday. Prices will continue to stabilize as recovering demand helps the global market to rebalance, he said.
"Saudi Arabia will not reduce production unless customers tell us we don't want your crude, and that is not going happen because Saudi Arabia is the most reliable supplier worldwide," al-Naimi said in a speech in the German capital. "Demand is gradually rising, global economic growth seems more robust and the oil price is stabilizing."
The Organization of Petroleum Exporting Countries' strategy of pressing rival producers such as U.S. shale explorers into tackling the current surplus will prove to be "the correct path," according to al-Naimi. U.S. producers have implemented an unprecedented cut in drilling as oil collapsed to a near six-year low after OPEC's Nov. 27 decision to maintain production.
West Texas Intermediate for April delivery added 77 cents to $52.30 a barrel in electronic trading on the New York Mercantile Exchange at 10:17 a.m. London time. Brent rose 80 cents to $61.35.
Non-OPEC Role
Non-OPEC producers must share responsibility for tackling the current oil surplus and Saudi Arabia "continues to seek consensus" on this, al-Naimi said. Suppliers outside the group, who face higher costs and are less efficient, will respond to lower prices before the Middle Eastern kingdom does.
"We need every major producer to co-operate if we are going to moderate the price," he said. "It is not the role of Saudi Arabia, or certain other OPEC nations, to subsidize higher-cost producers by ceding market share."
Brent crude, a global benchmark, fell by 61 percent between June and January as the U.S. pumped the most oil in three decades and Saudi Arabia led OPEC in maintaining output. While U.S. drillers have pulled rigs off fields for 12 straight weeks in response to the decline, the nation's oil production and stockpiles continue to rise.
U.S. crude inventories expanded by 10.3 million barrels last week to 444.4 million, the biggest weekly gain in 14 years, according to Energy Information Administration data.
Stimulating Demand
While Saudi Aramco, the state-run oil company, increased the pricing of its benchmark Arab Light crude to Asian buyers by the most in three years on Tuesday, it's still selling the grade at the biggest discount for the time of year since at least 2000, according to data compiled by Bloomberg.
Al-Naimi said he was unaware of any plans for OPEC to meet before its next scheduled gathering in June. Nigerian Oil Minister Diezani Alison-Madueke, serving as the group's president this year, said she may convene an emergency meeting in an interview with the Financial Times published on Feb. 23.
"I hope and expect supply and demand to once again start to balance, and for prices to stabilize," al-Naimi said. Lower prices are stimulating fuel demand among emerging nations, helping restore equilibrium in the global market, he said.
Al-Naimi declined to predict at what level prices would stabilize.
"If I were trying to predict what the future price of oil would be, I wouldn't be in Germany," he said. "I would be in Las Vegas."
Before it's here, it's on the Bloomberg Terminal.
LEARN MORE