Republicans Fail to Override Obama Veto of Keystone Measure
Jim Snyder and Kathleen Hunter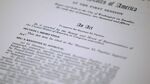 The U.S. Senate failed to override President Barack Obama's veto of a bill forcing approval of the Keystone XL pipeline, a setback for Republicans who've made building the $8 billion U.S.-Canada oil link a legislative priority.
Eight Democrats joined 54 Republicans in voting to overturn the veto, short of the two-thirds super majority needed. Obama said he opposed the bill because it would circumvent his administration's review, now in its sixth year.
Prior to the vote, Senate Majority Leader Mitch McConnell, a Kentucky Republican, said the decision to build Keystone was "a no-brainer."
"The real question here is whether we're going to allow Keystone's energy to help support middle-class jobs in America, or whether we'll allow those jobs and energy to potentially be sent to high-polluting countries like China," McConnell said.
It was the second major loss this week for Republicans, who control both the House of Representatives and the Senate. They also failed to repeal Obama's immigration policies as part of a spending bill to fund the Department of Homeland Security after Democrats objected.
Eight Democrats
The vote was nearly identical to the Jan. 29 Senate vote to approve the bill. Democrats voting to override were Michael Bennet of Colorado, Tom Carper of Delaware, Bob Casey of Pennsylvania, Heidi Heitkamp of North Dakota, Joe Manchin of West Virginia, Claire McCaskill of Missouri, Jon Tester of Montana and Mark Warner of Virginia.
Joe Donnelly of Indiana voted for the bill in January but didn't vote Wednesday. Of the Democrats, 37 voted to sustain Obama's action. All Republicans who voted backed the measure to override the veto.
Keystone XL is among the most divisive energy issues of Obama's presidency. It's sparked hundreds of protests, fueled a multimillion dollar lobbying battle in Washington, and created sore feelings in Canada's government, which wants Keystone to help develop energy-rich Alberta.
Business groups are strongly supportive. The U.S. Chamber of Commerce, the largest business lobby in Washington, said in a letter to lawmakers that it might use the vote on Keystone to judge their pro-business record in its annual "report card."
While Obama hasn't said whether he supports the pipeline itself, he has spoken skeptically of the project as recently as last week when he told a North Dakota television station that the Canadian oil Keystone would carry would bypass the U.S.
Environmental groups oppose the project and say they see it as a litmus test to judge Obama's record on fighting climate change.
'Circumvent' Process
"If we overrode the president's veto, we would be subverting safety and environmental standards," said Senator Maria Cantwell of Washington, the top Democrat on the Senate energy committee. "Why circumvent the process?"
Production of the heavy oil Keystone would transport to Gulf Coast refineries releases more greenhouse gases than does the development of other types of crude.
In an interview with Reuters this week, Obama gave little hint of when he plans to decide if Keystone XL is in the U.S.'s interest and warrants granting a presidential permit. TransCanada Corp., a Calgary-based pipeline company, applied for a presidential permit to build it in September 2008.
Backers including Senator John Hoeven, a North Dakota Republican, have said they would look for other ways to force approval by attaching the force-approval bill to legislation Obama supports.
In the interview, Obama said he expected to make a decision on the project in "weeks or months."
No timetable for an override vote is set in the House, where Republican leaders were waiting for the Senate to act, said Mike Long, a spokesman for Majority Leader Kevin McCarthy, in an e-mail.
A veto override requires approval from both chambers.