Reebok's Pump Is Back
Even though it never really went away
by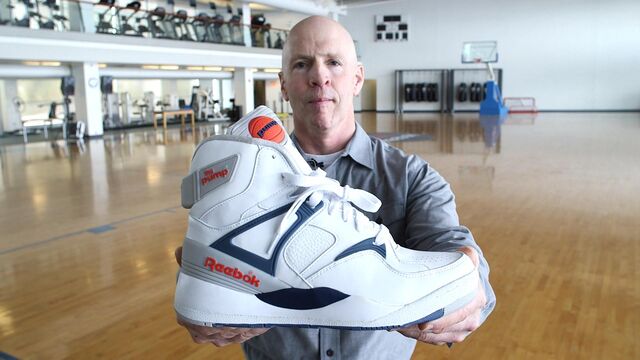 There isn't a lot of mojo left from Reebok's heyday in the late 1980s and early 1990s. Adidas took over the company's NBA sponsorship when it bought the brand in 2006. Nike outbid it for the right to make NFL uniforms in 2010. And these days, Shaquille O'Neal, former Reebok pitchman extraordinaire, is only an all-star on Twitter.
But deep within Reebok's stately and snowbound headquarters just south of Boston sits a trove of patents for inflatable shoes—a feat of engineering (and savvy legal work) that no other company, including Nike, has been able to fully crack.
Today, some 26 years after it sold its first inflatable sneaker, Reebok is resurrecting the Pump as the foundation of its strategy to stop a long, slow slide toward obscurity. The shoe unveiled this morning looks like most other running sneakers on the market—one seamless mesh upper with a lightweight and thin sole. The difference is the inflatable bladder that Reebok says tightens around the foot in an entirely new way and can be manufactured much less expensively than the original Pump.

If Reebok were a sports team, it would have just rehired the franchise's greatest player. Though now that player is, well, a lot older.
The Launch
Ask any American man between the ages of 35 and 40 about the Reebok Pump and odds are good you will hear something like this: "They came out when I was 12 years old and I thought they were absolutely the coolest thing ever, including the Air Jordans." That's Jordan Geller, professional sneakerhead and the owner of the ShoeZeum, a Las Vegas showcase of coveted footwear. "It was the only time in the history of those two companies when Reebok actually beat Nike."

Product innovation, corporate strategy, and pop culture—they all clicked for Reebok with the Pump. The technology, essentially an air bladder that wrapped around the foot and ankle, was as new to sneakers as air bags once were to automobiles. It had been cribbed from rare ski boots and inspired by inflatable splints. The bladders themselves were poured in a medical device factory in Chicopee, Mass, according to Paul Litchfield, vice president of advanced concepts at Reebok and project manager on the original Pump shoes. 
"It was a very heady time for basketball, so we focused on creating a product that would step up to the needs of the athletes," Litchfield said. "We had straps, we had fit systems, we had hinges. We had all kinds of stuff. … But this was the idea that kind of bubbled up to the top."
Recognizing its opportunity, Reebok slapped an astronomical price tag on the shoes: $170, or about $320 in today's money and roughly double any other basketball shoe on the market at the time. The price only increased the marketing buzz, according to Geller, and convinced skeptics that the idea was a valid improvement, rather than the kind of gimmick that was rife at the time (see: LA Gear Catapult).

Critically, basketball was having a moment, thanks in part to Michael Jordan. In 1988, Jordan won his first NBA MVP award and his second Slam Dunk Contest. However, three years later, Jordan's dunk performance was upstaged by Dee Brown, a Reebok athlete. Brown pumped his shoes before each attempt and the crowd of consumers went predictably wild.
"The athletes really embraced the concept," Litchfield said. "And the business was very, very intense at the time. It meant a lot when you were able to get a win—particularly a substantial win."
The Flop
Reebok sold 4 million pairs of Pump sneakers in the product's first 18 months, raking in $500 million of sales at a time when the company's annual revenue was less than $3 billion.
The company iterated that success quickly, sewing inflatable bladders into a range of sports shoes, including models for golf, baseball, and tennis (where a fuzzy green ball replaced the orange rubber of the basketball plunger).
Nike, however, could not be stopped. In 1990, when Jordan and the Chicago Bulls began their "three-peat" championship run, it surpassed Reebok in revenue. Soon the company had its own inflatable sneaker on shelves.
Meanwhile, Reebok took its eye off the ball. It bought a pile of seemingly disparate brands, including Rockport, a casual shoe brand, and Boston Whaler, a boat maker.

In 1991, then-Reebok CFO Paul Duncan said the company wasn't focused on beating Nike. "We don't consider ourselves an athletic footwear company," Duncan told the New York Times. "We are a marketing company. We build brands." Nike proved more facile at that game, too. By the time Adidas bought Reebok in 2006, Nike was six times larger than its former rival.
"They just didn't keep up," Geller said. "They didn't have the stars and they just stopped making cool shoes."
The Future
The Pump never really went away, but was slowly replaced on basketball courts by smaller, sleeker, and lighter shoes. Today, most of the inflatable Reeboks are throwback models mimicking decades-old shoes.
The Reebok brand, meanwhile, is plodding along at about the same size it was 20 years ago, though its ambitions are far more pedestrian. It is recrafting itself as a fitness brand with shoes and apparel that lend themselves to running, throwing tires around, and crawling through obstacle courses. The company has locked up partnerships with the Spartan Race property, CrossFit, and UFC mixed martial arts.

The running shoe unveiled this morning is the start of Reebok weaving its new pump bladders into all of these activities. The patent trove, meanwhile, shows a number of designs yet to hit store shelves, most notably a sneaker with a sole that can be inflated to offer adjustable levels of cushioning.

Litchfield considers a shoe with a "smart" and adjustable sole a sort of holy grail in the sneaker game. "So we've been doing a little tinkering with that," he said cryptically.
If there's any chance of Reebok whipping up the kind of consumer frenzy it created in 1989, it will likely come from some variation of this. While Litchfield is fine-tuning the technology in snowy Massachusetts, the Reebok marketing team is no doubt asking: Who's the Michael Jordan of CrossFit?
Before it's here, it's on the Bloomberg Terminal.
LEARN MORE