Rajan's Next India Rate Move Divides Goldman, Morgan Stanley
Sandrine Rastello and Manish Modi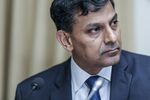 It's becoming harder to read Reserve Bank of India Governor Raghuram Rajan.
His second unscheduled quarter-point reduction in three months on Wednesday left analysts divided over what he'll do at the next review on April 7. Of 18 economists surveyed by Bloomberg News, eight expect Rajan to keep rates unchanged, seven predict a cut and three say it could go either way.
"One more in April, perhaps, but depends on the consensus," Tirthankar Patnaik, a Mumbai-based economist at Mizuho Bank Limited, wrote in an e-mail. "Just see the consensus, and then go AGAINST it."
Rajan's move is the latest salvo in an onslaught of global easing outside the U.S., with some 20 central banks adding stimulus so far this year. The decision also quickly followed Prime Minister Narendra Modi's agreement to a yearlong quest by Rajan for a legal mandate to fight inflation and increase the central bank's independence.
While inflation targets are supposed to make central banks more predictable, Rajan's successive moves outside of scheduled meetings have contributed to uncertainty, according to Jyotinder Kaur and other economists at HDFC Bank Ltd. near New Delhi.
"The shift in the central bank's strategy to make out-of-turn rate cuts something of a habit is likely to increase market volatility instead of anchoring it," she said. "The out of policy move, in our view, highlights a sense of urgency that can only be associated with the RBI realizing that it could in fact be 'behind the curve' in terms of monetary policy action."
Vague Guidance
Only three of 15 economists expected Rajan's move to reduce the benchmark repurchase rate to 7.5 percent before the April meeting. Rajan said he acted urgently due to the inflation-targeting agreement announced this week and weakness in Asia's third-largest economy.
Rajan had left rates unchanged last month after an unscheduled cut in January. Consumer prices rose 5.11 percent in January, third fastest among 17 Asian economies tracked by Bloomberg, though below his 6 percent target for January 2016.
Unlike last month, when Rajan zeroed in on inflation and Modi's Feb. 28 fiscal budget, he cited nine data points that will affect further moves. They include everything from improved availability of power to the monsoon to developments overseas.
"While the RBI has kept its options open, on balance, we think that the risk-reward is in favor of RBI staying on hold from here," Tushar Poddar, an economist at Goldman Sachs Group Inc., said in a note, referring to the central bank. "The policy guidance was very general in nature."
Softer Inflation
Morgan Stanley economist Chetan Ahya predicted a rate cut at the next meeting on April 7 and expects it to fall another 100 basis points to 6.5 percent by year's end. He sees inflation below 4.75 percent, giving Rajan enough room to keep cutting and maintain a real rate of 1.75 percent.
"Inflation trajectory will be key to magnitude of rate cuts," Ahya wrote.
India's one-year forward swap has fallen 16 basis points over the past two days to 7.03 percent, indicating investors are pricing in about 50 basis points in further rate cuts from the Reserve Bank over the next 12 months.
Rajan alluded to the need to keep up with counterparts in the easing cycle, saying the rupee remained strong relative to peers. The currency, Asia's third-best performer this year, gained 0.1 percent as of 12:33 p.m. in Mumbai on Thursday, snapping a four-day loss. India's benchmark stock index, which hit a record soon after the rate cut, fell 0.1 percent.
Fed Factor
The window for Rajan to reduce rates is "very small" due to the risk of volatility surrounding an expected rate rise from the Federal Reserve later this year, said Cristian Maggio, head of emerging markets research at TD Securities in London, who predicts a cut next month.
"The RBI cannot keep up an easing cycle forever," he said in an interview.
The monetary policy framework agreement calls for an inflation target of four percent, with a band of plus or minus two percentage points. Rajan had informally adopted the target after he took over as central bank governor in September 2013.
"This makes explicit what was implicit before -- that the government and the Reserve Bank have common objectives and that fiscal and monetary policy will work in a complementary way," Rajan said in the statement.
In a call with analysts on Wednesday, Rajan said the inflation band could tighten in five to 10 years. The central bank will seek to bring inflation "to the mid-point" of the inflation target by April 2018, he said in the statement.
More Independent
"The process of a dialogue between the ministry of finance and the RBI will continue and increasingly so," said Gaurav Kapur, a Mumbai-based economist at RBS Bank Ltd. who predicted the move on Wednesday. "If for some reason government's actions are not helping, then RBI can always point that out, and to that extent the independence is getting stronger and more institutionalized."
Jaitley said on Saturday that spending for roads, ports and bridges would rise 25 percent as he postponed by a year a plan to reduce the fiscal deficit to 3 percent of GDP. He also said the government would amend the central bank law to form a monetary policy committee.
Before the budget, Rajan said he'd look for spending to shift toward infrastructure. While the postponement of fiscal consolidation is "a source for concern," the shift in funds to states and infrastructure projects helps mitigate the risks, he said on Wednesday. He later said the budget would help make India a "powerhouse in the world."
Intentions vs Actions
Rajan's assessment flummoxed some economists, including Kunal Kundu at Societe Generale SA in Bengaluru. He scrapped his call for a snap rate cut due to his disappointment over the budget, a prediction that came the evening before Rajan's move.
"From the fiscal deficit standpoint, we expected a better budget," Kundu wrote. "Unfortunately, however, RBI seems to have made its decision based on the government's intentions rather than on its actions."
Before it's here, it's on the Bloomberg Terminal.
LEARN MORE