Putin-Endorsed Startup to Sell Two-Sided Smartphone in U.S.
Ilya Khrennikov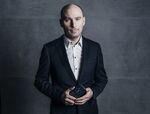 Yota Devices, a Russian technology startup backed by the government, plans to sell about 1 million smartphones this year in a push to expand in markets including China and the U.S.
The YotaPhone 2 will go on sale in North America and Latin America, with advance orders being taken on the Indiegogo website for funding startups, Yota Devices said today at the Mobile World Congress in Barcelona. Yota Devices is also planning to start selling the device in China by next month, Chief Executive Officer Vlad Martynov said by phone.
Yota Devices is part-owned by state-run holding company Rostec, which invests in technology to help Russia diversify away from energy exports. President Vladimir Putin presented the YotaPhone 2 to Chinese President Xi Jinping in November.
The YotaPhone, which sells for 699 euros ($770) in Europe, has an electronic-paper screen on the back that displays personalized information in addition to a standard touch-screen on the front. The design reduces battery usage, according to the company.
"North America and Latin America are very competitive mobile phone markets, and entering them will pose major challenges," wrote Natalia Vinogradova, an analyst at IDC. She said it "poses a question" of whether consumers need two screens at "such a high price."
Yota shipped about 100,000 phones in 2014 and they "sold quite poorly" in about 15 countries, the analyst also said.
Before it's here, it's on the Bloomberg Terminal.
LEARN MORE