Pomerantz Firm Chosen to Lead Petrobras Share Fraud Suit
Bob Van Voris and Patricia Hurtado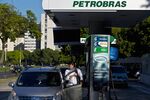 New York law firm Pomerantz LLP was appointed to lead investors suing Petroleo Brasileiro SA for securities fraud tied to an alleged multimillion-dollar kickback scheme.
U.S. District Judge Jed Rakoff in Manhattan Wednesday selected Pomerantz and its client, a Liverpool, England-based pension fund, to lead a class of investors who claim they lost money when the scheme became public and shares of Brazil's state-run oil producer, known as Petrobras, plunged.
U.S. lawyers often file securities fraud suits on behalf of a single investor after news about alleged misconduct at a company sends its shares down. Firms that attract the most investors or largest stakeholders seek to become lead counsel.
Lead counsel direct the litigation and usually collect the biggest fees from a settlement or verdict.
Rakoff selected the Pomerantz firm and Universities Superannuation Scheme Ltd. over three other groups. These included the Skagen-Danske group, comprising SKAGEN AS, Danske Invest Management A/S and Danske Invest Management Co., which claimed it had the largest loss -- about a quarter-billion dollars -- of the investors in the case.
Scandal Spreads
Petrobras is at the center of a corruption scandal that has spread to the nation's largest construction and engineering companies. Suppliers to the Rio de Janeiro-based energy firm allegedly bribed executives to win contracts at projects ranging from refineries to offshore drilling rigs, according to court documents filed in Brazil.
The investigation put President Dilma Rousseff on the defensive during her campaign for re-election, which she won narrowly Oct. 26.
Petrobras shares tumbled after it delayed the release of earnings for a month amid the escalating scandal, which led to the arrest of former executives. The company is also locked out of credit markets.
On Nov. 21, Petrobras received a subpoena from the U.S. Securities and Exchange Commission requesting documents related to the regulator's probe of the company, the oil producer said in a Nov. 24 statement.
Brazil's prosecutor general on Tuesday asked the nation's Supreme Court to authorize an investigation of senior politicians, including probes into whether office-holders are implicated in the alleged kickback scheme, according to a person with knowledge of the request who asked not to be identified because the matter isn't public.
The case is In Re Petrobras, 14-09662, U.S. District Court, Southern District of New York (Manhattan).
Before it's here, it's on the Bloomberg Terminal.
LEARN MORE