JPMorgan Names Co-Heads of North American and European M&A
Aaron Kirchfeld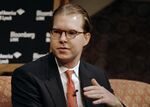 JPMorgan Chase & Co. named new co-heads for mergers and acquisitions in North America and Europe as the world's biggest investment bank boosts its regional focus.
Anu Aiyengar and Henry Gosebruch will be M&A co-heads for North America and Dirk Albersmeier and David Lomer will oversee Europe, the Middle East and Africa, according to a memo obtained by Bloomberg News. They will report to Hernan Cristerna and Chris Ventresca, co-heads of global M&A. Albersmeier and Lomer will also report regionally to Vis Raghavan, head of EMEA banking.
JPMorgan is ranked first in global M&A this year after placing fourth in 2014 during the the best year for takeovers since 2007, according to data compiled by Bloomberg. The structural changes will allow the bank to focus more on regions and cross-border deals during a time of "unprecedented M&A activity," according to the memo.
Aiyengar, who joined the firm as an associate in 1999, has been a senior M&A adviser for financial institutions and consumer and retail companies as well as in-house transactions. Gosebruch has worked on health-care and biotech deals as well as diversified industrial clients since joining as an M&A summer analyst in 1994.
Gosebruch worked on a series of multi-billion-dollar mergers last year, including Actavis Plc's $65 billion takeover of rival drugmaker Allergan Inc., the largest health-care deal of the year, and Merck & Co.'s $8.3 billion acquisition of Cubist Pharmaceuticals Inc.
Albersmeier will continue to lead the M&A advisory business in Germany and Austria, a role he's held since 2005. Lomer most recently co-led the telecommunications, media and technology team in EMEA.
Blessing, Skattum, Grilli
The promotions follow a spate of changes at the investment bank. JPMorgan this week named long-time utilities banker Callum Mitchell-Thomson as head of investment banking for Germany, reporting to Dorothee Blessing, who joined last year as vice chairman of investment banking in EMEA. In addition to Blessing, the New York-based firm rehired Dag Skattum in November and hired former Italian Finance Minister Vittorio Grilli in May.
Last week, Deutsche Bank AG poached Jeff Urwin from JPMorgan to help lead its investment-banking and trading unit, filling a key role at the German firm that had been empty since January.
The bank this year advised on Pfizer Inc.'s $17 billion acquisition of Hospira Inc., the biggest provider of injectable drugs, as well as CRH Plc's agreement to buy cement assets that Holcim Ltd. and Lafarge SA must sell ahead of their planned merger.
Improving Returns
Banks are bolstering advisory businesses as tightening regulations weigh on some trading activities. JPMorgan last week lowered its target for returns at the investment bank because of higher capital requirements. Chief Executive Officer Jamie Dimon is seeking to convince investors that JPMorgan can absorb regulators' demands for thicker capital cushions and better oversight, while improving companywide returns.
JPMorgan shares have gained about 7 percent in the last 12 months, valuing the company at $229 billion. That compares to a 10 percent gain at Standard and Poor's 500 Financials Index in the same period.
Before it's here, it's on the Bloomberg Terminal.
LEARN MORE