How Wendy Williams Became Daytime Talk's Unlikely Survivor
Dishing on Kim and Kanye has helped Williams's ratings soar in the post-Oprah market
By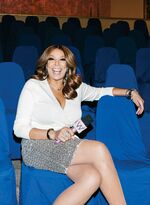 Wendy Williams is sitting alone onstage, like a doll in an oversize chair. Her spindly heels dangle several inches above the floor as she tells a story about Kim Kardashian and her husband, Kanye West. A few weeks ago, Kardashian's half-sister got into a Twitter feud with a model named Amber Rose, who once dated West. The rapper tried to intervene. "So now Kanye is all up in grown women's business," Williams tells her 50-person live audience, who explode in applause whenever she pauses. "We hate when our men get involved with our girl fights!"
This is what Williams calls Hot Topics, a 21-minute monologue about celebrity gossip that's delivered without a script and almost no notes. It's the cold opening to The Wendy Williams Show, her syndicated talk show, which has aired since 2008. Williams's audience has risen sharply in the past year, and the program attracts 2.4 million daily viewers on average, according to Nielsen. Among women age 25 to 54, the most coveted demographic by daytime advertisers, hers is the only talk show to have achieved year-over-year national growth, and Williams now trades off daily with Ellen DeGeneres as the No. 1 female host. (Dr. Phil beats them both, albeit with a different format.)

"There are so many talented people who tried to do these shows who have not succeeded," says Robert Thompson, a professor of television at Syracuse University. Earlier this decade a dozen or so broadcast stars (Katie Couric, Anderson Cooper, Meredith Vieira, and Jeff Probst among them) tried to claim a chunk of the 6 million viewers Oprah Winfrey abandoned when she ended her show in 2011. Only Vieira's program, which draws 1.5 million daily, remains. "Even Katie Couric, whose show you expected would have been good, it just never worked," Thompson says. "What Wendy does is some combination of making it seem like she's talking intimately and candidly to you, even though she's talking to millions of viewers."
Williams has no formal on-camera training. Before she started on TV, she was a popular shock jock—sometimes called the female Howard Stern—playing hip-hop and chatting with pop stars out of WBLS in New York. She'd worked at smaller radio stations since college at Northeastern University in the '80s, then in the Virgin Islands, and eventually in Philadelphia and New York. By the late '90s, Williams was known for dishing out harsh judgments of major celebrities. Mariah Carey and Will Smith both wrote bitter song lyrics about her. Her biggest blowup came with Whitney Houston in a 2003 interview, when she pressed the diva about her drug use. "It seems like I have a slick mouth. But it's very methodical," she says from her back office, which is plastered in fan art and other lifelike Wendy totems that audience members often bring her.
Knowing that Williams would be an edgy choice, the syndication company Debmar-Mercury approached her to do a six-week TV trial during the summer of 2008. She played on four stations in second-tier cities, recording from a cheap studio. She hid notes in her wig for when she froze on camera, which happened frequently. "I had to prove something to those people in the Midwest," Williams says. "Now, six years later, we're on prime time."
She won't reveal how much she earns, but there's still plenty to be made in syndicated daytime television; it's a $5 billion ad market, say analysts at Kantar Media. Shows like Williams's woo advertisers such as L'Oréal and Macy's, because 90 percent of viewers watch them live, according to the Syndicated Networks TV Association. Last year, as Williams's ratings soared, she began moving to more desirable networks, including NBC affiliates in West Palm Beach, Fla., and Columbus, Ohio. "You'd think, 'Oh, wow, she can't perform in a white market,' " says Mort Marcus, the Debmar-Mercury co-president who gave her the trial. "She's now crossing over."
The show works best when Williams is dishing on pop culture. "When I'm not working, honestly, my weekends now are absolutely in my robe, on a couch someplace in our house in New Jersey watching TV," she says. Like her Hot Topics, which are assembled by a team of six employees—"they're actually people that have a passion for Justin Bieber being a jerk"—much of the hourlong show is devoted to Hollywood. Occasionally, an A-lister such as Chris Rock will stop by, and Williams will ask an off-color question, then the clip will go viral. Recently she asked the singer Jennifer Lopez whether she sleeps with her exes. "I did have a 10-second dub button with the radio, and we have a 10-second dub button here on the show," she says, "and it's never happened in all of our six years."

Williams doesn't use social media, but her brash questions have made her a star on YouTube and Twitter. Her over-the-top appearance probably helps: She's 5 feet 11 in flats, which she rarely wears. In recent years, she's freely admitted to having liposuction and plastic surgery, and her chest has been augmented to the point of balloonishness. Her glamor wigs make her seem even more out of proportion, with her tiny waist and long, thin legs. "My middle name could be 'Tada!' I've always had a flair for the extra, in real life, in radio life," she says. "One day I will pass out, and I want them to keep the cameras rolling. I've already told them—just pull down my skirt."
Her fans sometimes tell her they'd like to be more like her. So, in 2013, she started selling a line of wigs, Wendy Williams Hair World, for $49 to $999. After that came Adorn by Wendy Williams, a line of $60 baubles available on QVC. In January, she announced an apparel line she'll design for the Home Shopping Network. The clothes are based on what she wears on-air—mostly tight blouses and tight skirts—and she plans to promote them using her show. "I'll be wearing them in the streets, too," she says, "because it's a working woman's line." Prices run less than $100 per item, and everything will be available in extra-small and plus sizes.

Last year, when Williams turned 50, she decided she wanted to mount a standup show in Las Vegas. The performance sold out the first night at the Sands Showroom at the Venetian, then two more nights, and now she's planning a national tour. She's played herself on 30 Rock and had bit parts in Think Like a Man and other movies. When she's not hosting or acting, she produces made-for-TV biopics for Lifetime. She's also written seven books; her first romance novel, Hold Me in Contempt, came out last year.
None of this is meant to be an exit strategy from the show. Williams's contract goes through 2017. Late in January she celebrated her 1,000th episode, but she still mentions her six-week audition often on-air. Before a recent episode, she learned that Rosie Perez, one of the new hosts on ABC's The View, might lose her contract after her own brief trial. That day during Hot Topics, she had a rare confrontation with her audience. "I feel as though you all are not giving us a chance anymore to prove ourselves," she began. "Sometimes people need a moment to find a voice and get into their groove." She gestured toward her massive wig. "Case in point."
She paused, then lifted her head and flashed a gigantic grin. "Let's move on and talk about Mariah Carey!"
Before it's here, it's on the Bloomberg Terminal.
LEARN MORE