Hot Oil-Debt Trade Now Looks Crowded to Nomura: Credit Markets
Christine Idzelis and Laura J. Keller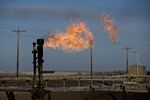 So many investors are chasing the yield on the beaten-down debt of energy companies that money manager Steve Kotsen is wondering if the trade's overcrowded.
After Blackstone Group LP Chairman Stephen Schwarzman in December called the debt one of the market's best opportunities in years, the money rushed in. Investors including Blackstone's GSO Capital credit unit and hedge-fund firm Mudrick Capital Management have been raising cash to buy debt that plunged almost 20 percentage points below face value on average in December. With the bonds bouncing back with a 9 percent gain in two months, Kotsen's group at Nomura Holdings Inc.'s U.S. asset-management unit sold some of the debt at the end of February.
"We thought there was too much capital chasing these ideas," said Kotsen, a managing director who helps oversee $14.7 billion in assets in New York. "There are still some opportunities, but you probably have to take on more risk right now."
The easy money from last year's rout may be starting to disappear as crude prices stabilize and energy producers get fresh capital to keep drilling. Instead, the focus is shifting to strategies that will take longer to play out, such as profiting from high-yielding rescue loans as suppressed prices push even more companies to the brink.
Not So Simple
Schwarzman warned in January that the trade isn't as simple as piling into a depressed market. And many investors are raising money in anticipation that oil prices have further to fall.
"The opportunity is very large, long and wide," with $200 billion of high-yield bonds and $50 billion of leveraged loans in the energy sector, Dwight Scott, the head of GSO Capital's Houston office, said in a phone interview. Oil prices "have stabilized, but could still come down a leg," he said.
As oil plunged about 50 percent during the last six months of 2014, the average price on junk-rated energy company debt dropped more than 22 cents to 83.4 cents on the dollar, according to Bank of America Merrill Lynch index data. The prices have since bounced back to 91.1 cents.
Much of the decline was driven by concern that the lower oil prices would squeeze companies' ability to borrow from credit lines tied directly to the value of their assets.
Jones Energy
GSO and hedge-fund firm Magnetar Capital swooped in last month to help Austin, Texas-based driller Jones Energy Inc. to repay its credit line, lending the company $250 million through a private debt offering and buying $50 million of equity. The firms agreed to buy 9.25 percent senior unsecured notes due in 2023 at a discounted price of 94.6 cents on the dollar. About a year ago, the company was able to sell $500 million of 6.75 percent securities at par.
Those notes, which had tumbled to as low as 72.5 cents on the dollar in December, surged to 96 cents on the dollar after the deal was announced Feb. 10, according to Trace, the bond-price reporting system of the Financial Industry Regulatory Authority.
Goodrich Petroleum Corp., a Houston-based driller, said in a regulatory filing this week that a unit of Franklin Resources Inc. agreed to buy $100 million of second-lien senior secured notes to help repay borrowings under a credit line that's being cut to $150 million. Goodrich also sold shares in a separate transaction, raising about $50 million.
Matt Walsh, a spokesman for Franklin, didn't immediately return a telephone message seeking comment.
KKR Fund
KKR is also considering making second-lien loans to companies that face credit-line reductions when banks recalculate borrowing bases, said Nat Zilkha, the New York-based co-head of credit at the firm.
KKR was seeking to raise as much as $3 billion in a fund to invest in Asia and energy debt, a person familiar with the effort said in January. GSO, which has existing funds to invest in oil and gas deals, is raising a $1 billion pool that can be used to lend to energy companies, person familiar with that firm's strategy said in January.
Mudrick Capital, whose founder Jason Mudrick cited the oil-price decline as "the most exciting" opportunity since the 2008 financial crisis, is now raising a fund to invest in distressed bonds and loans of energy companies, according to marketing documents obtained by Bloomberg News.
As oil prices stabilized this year, individual investors also have been piling back into junk bonds. They added a net $11 billion to U.S. high-yield bond funds this year through Feb. 25, according to data provider Lipper.
Samson Resources
Trouble may still be looming for borrowers that have yet to find rescue financing.
Samson Resources Corp., the energy producer owned by KKR has hired restructuring advisers after the oil-price slump wiped out two thirds of the market value of its bonds. Moody's Investors Service on March 2 downgraded the stressed company to nine levels below investment-grade, citing the hiring and delays in reaching agreements on potential asset sales.
American Eagle Energy Corp., an oil and gas producer that operates in North Dakota's Bakken shale formation, said in a statement Monday that it skipped the first payment on $175 million of 11 percent notes it sold in August. The company, which stopped drilling in November and suspended its 2015 capital plan because of declining oil prices, has 30 days to pay the $9.8 million in interest before triggering a default.
Marty Beskow, a spokesman at American Eagle Energy, didn't immediately respond to e-mailed messages and telephone calls seeking comment.
"Energy investing is not as simple as buying a market, which would be a bad idea and is why many investors will lose money investing even today despite asset price declines," Schwarzman said on a Jan. 29 Blackstone earnings call with investors.
Before it's here, it's on the Bloomberg Terminal.
LEARN MORE