Ferguson Reacts to DOJ Report: 'We're Looking for Justice'
The feds finally acknowledged what residents say they've witnessed for years, but no one's sure whether it'll mean real change to local policing
by and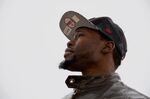 Dontrell Humbert and his four children joined hundreds of demonstrators in the streets of Ferguson, Missouri, in August to protest police brutality against blacks. He said the outcry may finally be bringing change. 
"We've been complaining for years and years about the way we are treated," Humbert, a 39-year-old truck driver, said Wednesday as the U.S. Justice Department released a report criticizing racial bias by Ferguson police. "We are treated differently." 

Seven months after the shooting death of 18-year-old Michael Brown by a white police officer unleashed demonstrations and rioting in the St. Louis suburb, black residents welcomed the federal acknowledgment of what people say they've witnessed for years: harassment and excessive force at the hands of the mostly white police department. 
President Barack Obama's administration said officers exhibited a pattern of misconduct. There wasn't enough evidence to bring charges against Darren Wilson, the officer who shot Brown, the Justice Department said. 
On the city's streets, the report was met with hope and skepticism that it would remedy years of heavy-handed police tactics. 
"We're tired of small talk, the City Council meetings, the protests, everything. We need action," said Deandre Smith, 31, who's a barber in Ferguson. "We're not looking for recognition. We're looking for justice."
Riots Erupt
The city of 21,000, almost two-thirds of whose residents are black, revived a national debate about disparities in the justice system. When a grand jury in November decided not to bring criminal charges against Wilson, riots erupted in Ferguson. Thousands demonstrated in U.S. cities, saying prosecutors fail to hold police officers accountable. 

The Justice Department has opened more than 20 investigations of police departments in the past five years. New Orleans, Seattle and Albuquerque, New Mexico, are among those under court oversight. 
"This is the best hope for reforming the Ferguson police department," said Samuel Walker, a former professor of criminal justice at the University of Nebraska at Omaha who has worked as a consultant to police departments. "It's very likely to improve the quality of policing."
Justice Department lawyers met with Ferguson leaders to discuss the findings and recommendations. There's no deadline to reach a settlement. If one can't be reached, the agency can file a federal lawsuit seeking to force changes.
City Response
Ferguson Mayor James Knowles told reporters Wednesday that the city is improving oversight of police and has reduced court fees that the Justice Department said police were under pressure to maximize. He said one employee was fired while another two were put on leave for sending racist e-mails. He didn't discuss the settlement negotiations.
"Today's report allows the city of Ferguson to identify the problems not only in our police department, but in the entire St. Louis region,'' Knowles said during a press conference where he didn't take questions from reporters. "We must do better, not only as a city but as a state and a country."
It may take time before residents see any impact, said Peter Scharf, a criminology professor at Louisiana State University who has tracked the 2012 Justice Department settlement with New Orleans. 
"They are going to be under intense scrutiny," he said. "People will get fired. They are going to make sure that use of force is monitored and they will take on the culture, and on that last they may have even a tougher time than they did here. It's just going to be a long, nasty haul."

Dawanda Rice, 48, who works at a McDonald's next to a shop that was burned down in the November riots, said she's doubtful.
"A lot of changes got to be done, but they're not going to make any," said Rice, who is black. "It's going to be the same. I would love for them to make some changes."
Revenue Center
Ferguson's police focused on generating revenue by issuing large numbers of citations for minor violations and issuing arrest warrants for those who failed to pay fines or appear in court, the Justice Department said.
William Jefferson, 40, who is black, said he had to pay hundreds of dollars in fines after police pulled him over numerous times, alleging speeding, switching lanes without a turn signal and going through a yellow light. He said he was optimistic that the Justice Department will help prevent police from disproportionately targeting blacks.

"For years it seemed like no one wanted to hear it," Jefferson said, while sitting in his car outside the Ferguson Market & Liquor along West Florissant Avenue, where protesters and police clashed in the August heat amid tear gas and chants.
"Our children, when they start driving, they can ride through Ferguson with ease, and not have to worry about those things," said Jefferson, who sat in his car with his 5-year-old son. "I'm glad we're finally coming to this. Now policing will be a lot better." 
—With assistance from Del Quentin Wilber in Washington.
Read this next:
Before it's here, it's on the Bloomberg Terminal.
LEARN MORE