pursuits
Etsy Files for IPO
Leslie Picker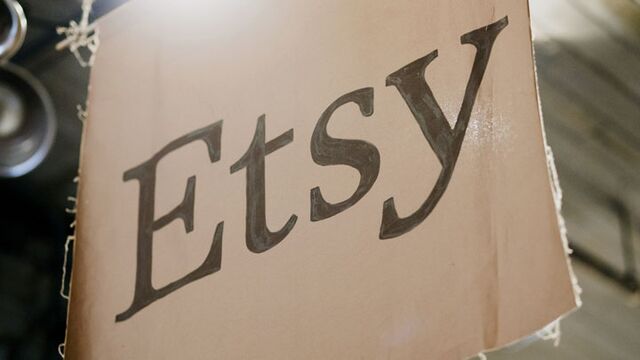 Etsy Inc., the global online marketplace for vintage and artisanal products, filed for an initial public offering that may end up being the largest for a New York-based technology company in 16 years.
The company disclosed its prospectus Wednesday with a $100 million placeholder, an amount used to calculate fees that will change. Etsy is seeking a share sale three times that size, people familiar with the matter said in January. Etsy plans to use the proceeds for general corporate purposes, including continued investments to expand the business, the regulatory filing shows.
Etsy, founded in Brooklyn, New York, a decade ago as a niche website where artists could sell their creations, offers everything from crochet chickens to Soviet-era souvenir pens. The company makes revenue through commissions and listing fees charged to sellers, as well as other services. Sales last year surged 56 percent to $196 million, according to Wednesday's filing. Still, the company's losses widened, to $15.2 million for the 12 months through Dec. 31 from $796,000 a year earlier.
In 2014, 78 percent of the almost $2 billion worth of purchases came from repeat customers, the filing shows. As of the end of last year, Etsy had 1.4 million active sellers and almost 20 million buyers. Women account for 86 percent of the sellers.
The company was founded by Rob Kalin, a carpenter making handmade wooden computers with nowhere to sell them. He left the company in 2011 and was replaced as chief executive officer by Chad Dickerson, 42, a former Yahoo! Inc. executive.
Artisan Angst
While growth is critical for prospective investors, sellers have said that an IPO could hurt their businesses. Etsy changed its policies in October 2013 to allow sellers to outsource manufacturing and fulfillment services. This helped some sellers become six-figure successes, and their businesses' growth may have helped Etsy's.
At the same time, the new protocol upset artisans who focused purely on handmade items because it unleashed a wave of new products -- and more competition. Some are concerned that the IPO will encourage the company to create more policies, such as raising listing fees, that could adversely affect them.
"I predict Etsy's environment will change drastically with an IPO -- and I don't feel the inevitable changes will be as benign to our community as Etsy (or investors) would have us think," Jessica Rankin, who sells handmade jewelry on the site, said on one of Etsy's forums. "Finding another home for my shop may be the only way I have a hand in preserving it."
The last time a technology company from New York raised more than $300 million, the dot-com bubble was fueling IPOs from online broker TD Waterhouse Group Inc. and Barnesandnoble.com Inc., the Web spinoff of the bookstore chain.
Accel Partners, Index Ventures, Tiger Global Management and Union Square Ventures are shareholders in Etsy, with a combined 62.3 percent stake in the company.
Goldman Sachs Group Inc., Morgan Stanley and Allen & Co. are managing Etsy's IPO. The company has applied to list on the Nasdaq Stock Market under the symbol ETSY.
(Updates with number of customers in fourth paragraph.)
Before it's here, it's on the Bloomberg Terminal.
LEARN MORE