Own Up to the War Former Japan PM Tells Abe
Maiko Takahashi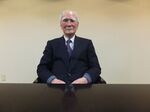 Twenty years after his landmark apology for Japan's wartime aggression, former Prime Minister Tomiichi Murayama urged the current premier not to shirk Japan's responsibility for the conflict in a planned statement to mark the 70th anniversary of the end of World War II.
Murayama, 91, who told the world Japan must "eliminate self-righteous nationalism" that triggered the war, called on Prime Minister Shinzo Abe not to water-down the statement that bears his name, and retain references to the "aggression" and "colonial rule" the nation inflicted on its Asian neighbors.
Murayama, the country's first Socialist prime minister in almost half a century, stressed in a March 3 interview that his 1995 message set the tone for later declarations of peace and friendship with China and South Korea. Japan's relations with both countries have suffered under Abe due to his interpretation of history.
"The prime ministers that came after me all promised to uphold the statement. In a sense, it's become a national policy," Murayama said at a hotel in Beppu, a hot-spring city near his home in western Japan. Changing the language "would mean everything said so far has been a lie."
Abe has hinted he will avoid such descriptions, saying instead he plans to focus on his nation's postwar contributions to peace and future plans. Failure to include such terms would risk further irritating China and South Korea, where widespread bitterness over Japan's militarism in the first half of the 20th Century has soured relations with two of Japan's biggest trading partners.
"Because Abe has been struggling to get summits with the leaders of South Korea and China, he may have to swallow his pride and follow up with something close to the Murayama Statement," said Hirotada Asakawa, a political analyst and guest professor at Tohoku Fukushi University.
Historical Perception
Abe has created an advisory panel of academics, journalists and businessmen to provide him with reference material to draft the new statement in August that follows on declarations on the 50th and 60th anniversaries. The prime minister has said he plans to uphold Murayama's statement "on the whole."
"Across the world, and in countries such as South Korea, China and the U.S., there is a view that my statement was a good thing," Murayama said over a cup of hot green tea on his birthday. "Changing our perception of history would earn the distrust of the world."
In the original statement, Murayama wrote: "During a certain period in the not too distant past, Japan, following a mistaken national policy, advanced along the road to war, only to ensnare the Japanese people in a fateful crisis, and, through its colonial rule and aggression, caused tremendous damage and suffering to the people of many countries, particularly to those of Asian nations."
Abe has also been trying to ease the institutional pacifism that Murayama upheld and strengthen Japan's presence on the global stage. His Liberal Democratic Party and junior coalition partner Komeito last month began negotiations on a package of legislation putting into practice a reinterpretation of the postwar pacifist constitution to allow Japan to defend countries under attack. Since taking office for a second time in 2012, he's also reversed a decline in defense spending and loosened a ban on weapons exports.
Abe indicated his intentions on the statement early in his tenure. In April 2013, he told parliament that international academia hasn't agreed on the definition of aggression. "It differs depending on the viewpoint based on relationships between countries," he said.
Even so, Abe told parliament on March 3 that he was "in no way a revisionist."
Drawing a Line
The 70th anniversary statement remains a political issue because Japan has failed to draw a line under the past, said Murayama, who added that he would go to Tokyo to speak with Abe at any time if the prime minister requested.
Japan occupied Korea for 35 years before its surrender at the end of World War II, a conflict that killed over 30 million people in Asia including about 20 million Chinese, according to the National WWII Museum in New Orleans. Both neighbors accuse Abe of playing down Japan's responsibility for the conflict and for atrocities committed by the Imperial Army, such as the killing of Chinese civilians after the capture of Nanking and the use of women as sex slaves for the troops.
China and South Korea remain wary of Abe. His grandfather was in the wartime cabinet; he has visited the Yasukuni Shrine, which is seen by many in Asia as a symbol of Japan's militarism; and some of his appointees have stoked nationalist concern, including the head of the state-controlled national broadcaster who said the Imperial Army's use of sex slaves was a practice "common in any country at war."
The Japanese public is split on the issue of the war statement. In a January survey by the Mainichi newspaper, 50 percent of respondents said it should retain the terms "aggression" and "colonial rule," while 34 percent said it wasn't necessary to keep the wording.
'Comfort Women'
Prior to making his statement, Murayama established the Asian Women's Fund to provide compensation to such "comfort women" from countries including South Korea and Taiwan. He remained head of the fund until its dissolution in 2007.
Historians say anywhere from 20,000 to 410,000 women, many of them Korean, served in the Imperial Army's brothels as it invaded large swaths of Asia during the first half of the 20th century. Chief Cabinet Secretary Yohei Kono apologized to the women in 1993 and Japan offered compensation, which was refused by some victims in South Korea.
Debate still rages in Japan about whether the women were forced into sexual servitude or were willingly working as prostitutes. In September, Chief Cabinet Secretary Yoshihide Suga said the term "sex slaves" was inappropriate for the women.
Korean Protest
The issue has stifled Abe's attempts to hold a summit with South Korean President Park Geun Hye, dividing the U.S. two biggest allies in Asia. South Korea lodged a protest with Japan in June last year over a review of the 1993 apology.
"You will only earn distrust if you keep talking about" the comfort-women issue, Murayama said. "To solve the issue, it's best to discuss the matter with South Korea."
Murayama said he was worried about a shift in the political zeitgeist to the right.
"The leadership of Prime Minister Abe is to blame for this," he said. "I've only got a short time left, but while I have my health, I want to try to prevent Japan going down the wrong path."
Before it's here, it's on the Bloomberg Terminal.
LEARN MORE