David Zervos: Here's Who's Buying All That Debt at Negative Yields
Why are people buying debt at a guaranteed loss?
by and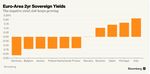 David Zervos at Jefferies takes a look at negative yielding European sovereign debt in a note sent to clients today.
In the note he asks what seems like an obvious question: "Who in their right mind would ever buy this many negative yielding bonds? Or, put another way, how can an investor look themselves in the mirror after a day of hard work buying bonds with a 'guaranteed' loss?"
His answer to the question, and what that answer means, should be of great interest to investors in the euro zone. He blames the index-driven world in which many investors live. Managers follow benchmarks, set under " longstanding rules which never anticipated negative nominal yields."
The answer for these managers is to change the rules or mandates of their funds to allow them to ignore the rules that are currently forcing them to guarantee a loss on the funds they manage.
Zervos then argues that this change will turbocharge the portfolio effect in the euro zone. When the highest-rated sovereign debt carries a negative yield, it is no longer a risk-free asset; it is a guaranteed loser. Investors will therefore move into risk assets (e.g. quities). According to Zervos, this move will happen over the coming quarters rather than over a period of years, as happened in the US.
Zervos's comments come as investors look to the European Central Bank to start sovereign bond purchases after its meeting tomorrow. With already negative yields across much of northern Europe and Mario Draghi saying that the ECB would be happy to buy at negative yields, investors will be rushing to change their investment mandates.
Zervos says of those who are late to change: " They will be fleeced! They will be the sheep of Wall Street!"
Before it's here, it's on the Bloomberg Terminal.
LEARN MORE