Clinton E-mails Show 'No Evidence' of Misdeeds on Benghazi, Democrats Say
Republicans say they still plan to call the former secretary of state to testify, but resist calls to release the e-mails.
By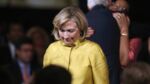 Democrats on a congressional committee with access to some of Hillary Clinton's e-mails have declared that the messages refute charges Republicans have made about her handling of the 2012 attack  on the American consulate in Benghazi, Libya.
The cache of e-mails provided by the former secretary of state "contains no evidence to suggest that Secretary Clinton ordered the Secretary of Defense to 'stand down,' no evidence to suggest that she was personally involved in denying requests for security for Benghazi, and no evidence to suggest that she order the destruuction of documents, as Republicans have alleged," Democrats on the Select Committee on Benghazi wrote on Tuesday night.
A spokesman for those Democrats, Paul Bell, said the more than 800 pages of documents that the committee has been reading contradicted Republican charges about the attack that killed the U.S. ambassador, Chris Stevens, and three other Americans. Another staffer said Democrats are seeking to release the e-mails jointly with Republicans but are not at the point yet of deciding to do so unilaterally.
On Tuesday afternoon, Representative Trey Gowdy, a South Carolina Republican who chairs the committee, reiterated his determination to call Clinton, an all-but-certain presidential candidate, to testify before the committee about the circumstances surrounding the attack.
Gowdy resisted calls to release the e-mails, saying the onus was on Clinton because recent revelations by the New York Times about her use of a private email address raised questions about whether the committee had access to the full record.
Also on Tuesday, Representative Elijah Cummings, the highest-ranking Democrat on the committee, called on Gowdy to release the e-mails.
In 2014, the Select Committee on Intelligence rejected the idea the State Department made a so-called "stand-down" order to block rescue efforts, but the Benghazi committee has continued its investigation.
Update: An earlier version of this story listed a higher figure for the number of pages the committee has been reading. The higher number was provided by Democratic staffers. It also quoted Paul Bell as saying it may not be possible to release the e-mails because of their "sensitive" nature. Democratic staffers later said that was not accurate.