Boston Marathon Bomb Victims Converge on Court as Trial Starts
Janelle Lawrence and Chris Dolmetsch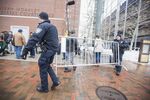 Victims and their families arrived by the busload at federal court Wednesday for the start of the trial of the man accused of setting off two bombs at the Boston Marathon and tearing apart hundreds of lives.
Some filled the first five rows of the courtroom of U.S. District Judge George O'Toole, who is presiding over the trial of Dzhokhar Tsarnaev. Others followed the proceeding on a monitor in another part of the building.
Among the onlookers were the parents of Martin Richard, the 8-year-old who perished in the April 2013 assault, which killed three people and injured 260.
A jury of 10 women and eight men, including six alternates, must decide not only whether Tsarnaev, 21, is guilty of the charges against him, but also whether he deserves to die if he is convicted. The defendant, in a dark sport coat and collared shirt, looked on as opening statements began.
Assistant U.S. Attorney William Weinreb gave a detailed narrative of the bombing day. He said Tsarnaev brought a sealed pressure cooker filed with shrapnel designed to "shred flesh" and "tear people apart."
"The defendant's goal that day was to maim and kill as many victims as possible," Weinreb told the jury. "He pretended to be a spectator but he had murder in his heart."
The double bombing occurred during a televised race attended by thousands of spectators. It was followed by a five-day manhunt during which Tsarnaev and his older brother allegedly shot and killed a police officer and citizens were told to take refuge in their homes.
Brother Blame
The defense team has indicated that, rather than deny their client took part in the attack, they will place the lion's share of the blame on Tamerlan Tsarnaev, who died in a shootout with police days after the bombing.
The lawyers repeatedly asked to have the trial moved out of Boston, where they say their client can't get a fair hearing. O'Toole denied the latest request Wednesday morning. He also refused to let the defense present any mitigating evidence during the first phase of the trial, which is devoted to determining Tsarnaev's guilt or innocence.
"Evidence bearing on such considerations is not relevant and should not be admitted," he said.
The jury was winnowed down from a pool of more than 1,300 Massachusetts residents. The panel includes the general manager of a restaurant and a man who works for the water department of a suburban city. Their full identities haven't been disclosed.
The case is U.S. v. Tsarnaev, 13-cr-10200, U.S. District Court, District of Massachusetts (Boston).
Before it's here, it's on the Bloomberg Terminal.
LEARN MORE