Abercrombie & Fitch Drops After Holiday Sales Tumble
Lindsey Rupp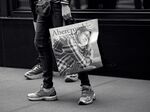 Abercrombie & Fitch Co. shares dropped the most in almost four months after holiday sales missed estimates and the struggling teen retailer declined to give an earnings forecast.
Sales at comparable stores, which includes locations open at least a year as well as e-commerce orders, fell 10 percent in the fourth quarter, the New Albany, Ohio-based company said in a statement on Wednesday. Analysts had projected an 8.2 percent drop, according to Consensus Metrix.
Abercrombie is trying to reconnect with teen customers by revamping marketing, updating stores and and reducing the use of its logo, which suffered from overexposure. As it attempts a comeback in a cutthroat retail market, the company didn't provide sales or earnings-per-share guidance for the year, saying it was waiting for "greater visibility."
"It was a mediocre quarter, with weakness in the U.S. and internationally," said Eric Beder, a New York based analyst at Wunderlich Securities. "Abercrombie doesn't have the right formula to work in a very tough teen market."
The shares fell 16 percent to $20.27 at the close in New York. Abercrombie has slid 29 percent this year, compared with a 1.9 percent gain for the Standard & Poor's 500 Index.
No CEO
The results signal that Abercrombie remains adrift after the departure of longtime Chief Executive Officer Mike Jeffries in December. The company is seeking a replacement for the 70-year-old, who revived the brand in the 1990s but then gradually lost touch with the young shoppers it once enthralled.
"The management team doesn't have real answers -- there's no CEO," said Beder, who rates the stock a sell.
The CEO search process is continuing at an "acceptable pace," Chairman Arthur Martinez said on a conference call. Abercrombie is considering internal candidates, including Jonathan Ramsden, who joined the company in 2008 and was promoted to the newly created position of chief operating officer in January 2014. Two other possibilities include Christos Angelides, formerly at U.K.-based clothing chain Next Plc, and Fran Horowitz, a former Ann Inc. executive.
While the company has been working to cut costs and limit discounting, it appears to still be relying heavily on promotions to entice customers, said Jeffrey Toohig, a New York-based analyst at Investment Technology Group Inc. As millennial shoppers eschew clothes with logos, the company also has to figure out a way to rebuild its brand.
What's Next?
"They seem to be very promotional," he said. "They're losing the very defining logo business, and they don't seem to have found a way to replace it with something identifiable."
Fourth-quarter net income fell 33 percent to $44.4 million, or 63 cents a share, from $66.1 million, or 85 cents, a year earlier. Excluding some items, earnings amounted to $1.15 in the period, which ended Jan. 31. That matched estimates, according to data compiled by Bloomberg.
The company also is facing scrutiny from the U.S. Supreme Court over its employee dress code. Abercrombie denied a job to a Muslim teenager because she wore a head scarf, sparking a legal challenge. A lower court ruled that Samantha Elauf needed to tell the company explicitly that she required a religious exemption from its dress code to work at an Oklahoma store.
The Supreme Court heard arguments at a Feb. 25 hearing in the case, which may make employers work harder to avoid religious discrimination. More than a dozen religious-advocacy groups from a variety of faiths are backing the U.S. Equal Employment Opportunity Commission, which filed a suit on Elauf's behalf.
A strong U.S. dollar, meanwhile, will continue to hamper spending by tourists and reduce profit from Europe. That's creating a "significant headwind" this year, the company said on Wednesday. The decline of its logo products also will continue in the first half of the year, though Abercrombie expects the problem to abate after that.
"We expect the first half of 2015 to remain challenging," Martinez said.
(Corrects spelling of firm's name in ninth paragraph of story that ran March 4.)
Before it's here, it's on the Bloomberg Terminal.
LEARN MORE