Abbott Seeks Call to Spare Bali Nine Pair From Execution
Jason Scott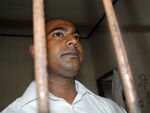 Prime Minister Tony Abbott is seeking to speak with Indonesian President Joko Widodo and make a last-ditch plea to spare the lives of two Australians facing execution for drug smuggling.
"It would ennoble Indonesia if they were to extend mercy to these men," Abbott told reporters in Canberra after taking part in a dawn candlelight vigil for Myuran Sukumaran and Andrew Chan. "I can't guarantee that the request" for a "final call" with Widodo will be met, he said.
Tensions between neighbors Indonesia and Australia, which have a history of diplomatic spats, are ramping up after Wednesday's move to transport Sukumaran and Chan to an island prison where they will face a firing squad. Foreign Minister Julie Bishop said Thursday she's waiting to hear back from her Indonesian counterpart after raising the possibility of a prisoner swap for the pair.
Widodo, known as Jokowi, has said he will show "no compromise" for convicted drug smugglers, pointing to figures that show 18,000 Indonesians die from drug-related illness a year.
The pair were in a group of young Australians -- known as the Bali Nine -- arrested on the Indonesian resort island in 2005 for attempting to carry 8 kilograms (17 pounds) of heroin through the airport.
Sentiment in Australia has swung toward Sukumaran and Chan amid media reports and claims by Abbott's government that they have been reformed. Amnesty International has said the executions would be a set back to Indonesia's promise of improving human rights.
Bishop said her counterpart, Retno Marsudi, had undertaken to pass on the prison swap request to Jokowi.
"We are seeking opportunities to explore every option that might be available to us, every avenue that might be available to save the lives of these two men," Bishop said. "I am deeply concerned about the impact of these executions not just on the Australian relationship with Indonesia, but on Indonesia's reputation worldwide."
Before it's here, it's on the Bloomberg Terminal.
LEARN MORE