Will.i.am and the Thumbing Down of Screenagers
And don't call them 'wearables'
By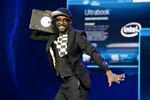 In the tech world, celebrities have become brand ambassadors for new phones, creative consultants for semiconductors and entertainment for the geeky masses at big events.
Adding to that list: creators of jargon. As if we needed more.
At the Mobile World Congress in Barcelona, will.i.am, one of the founding members of the Black Eyed Peas and judge of the talent competition The Voice, tried to add his own buzzwords to the industry's mix:
The Thumbing Down of Society
"Now you go to dinner and no one ever talks and they're staring at a glowing little rectangle just thumbing through life. To me, that's fascinating—the thumbing down," he said at a panel discussion on mobile entertainment.
Screenagers
Are your teenagers glued to their phones? "They're screenagers. It's the age of the dominating screen."
Don't Call Them Wearables
"In the fashion industry, they've been putting stuff on your body for years. They just call it clothes." 
I-data-ty
"Your identity isn't your bank account information. Your identity is the things you like and who you know and where you go. Your devices that you wear on you will harness your identity—i-data-ty."
Thanks, will.i.am. Now excuse us while we go into airplane mode.
For more, read this QuickTake: An App Up Your Sleeve