The McLaren 675LT Takes Off at Geneva Motor Show, Fast and Street-Legal
This $300,000+ supercar is 200 pounds lighter than its predecessor, and it can hit 62 miles per hour in 2.9 seconds
By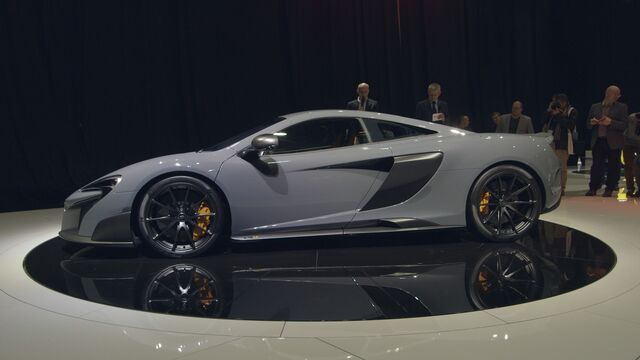 Two years after it launched the production P1 supercar, McLaren unleashed another of its highly specialized track-masters in Geneva today, the 675LT. 
McLaren is spinning the car as an ultra-lightweight, ultra-fast coupe that you can drive as easily on the street as on the track. The numbers back up the first part of that claim: It has a 666bhp V8 engine with a 0 to 62-mile-per-hour sprint time of 2.9 seconds. Top speed is 205 mph.
You'll be hard-pressed to find anything street-legal that can beat that time, apart from a Bugatti. (Pricing has yet to be announced on this, but Car+Driver estimates it'll be $345,000. I agree it'll likely be a heck of a lot less than the $2-million-plus Bugatti Veyron.) If you get your hands on one, consider yourself lucky. Only 500 will be made.
The Secret to Speed
How did it get so fast? The 675LT uses a special "Longtail" rear air brake that is 50 percent bigger than the one on the McLaren 650S but much lighter than that one, too, thanks to the fact that it's all carbon fiber. In fact more than a third of this car has been developed as totally new, rather than carried over from the 650S, and much has been given the same lightweight treatment: carbon fiber components, adjusted suspension, lightened wheels. The whole car weighs roughly 2,700 pounds—200 pounds less than its predecessors. 

All that leads to increased downforce, improved aerodynamic efficiency, and superior shifting times. (Did I mention the steering ratio is quicker than the P1?) The car is so light and efficient that it doesn't even incur the notorious gas-guzzler tax routine for 99.9 percent of cars of this ilk. 
How It Looks
When you see it, you'll think the 675LT is bigger than the 650S. That's because it's 20mm lower and 20mm wider, creating the effect of a stronger, bolder stance. And because the whole thing was sculpted with speed in mind, it sports a newly designed front bumper and carbon fiber front splitter, arched wheel cavities, and a carbon-fiber side body that leans down to the subtle air intakes and radiators. It even has two fresh titanium exhaust pipes integrated flawlessly into the system. It all goes toward making this car dominant on any track.

Inside are race-ready bucket seats and a clean, minimal interior that channels driver focus to the road. The dash is vertically oriented like the one in the 650S; the doors swing up and out; the back has vent slots that look like ribs rising along a spine. I liked the contrasting orange leather brake calipers and leather seats (a nod to the McLaren signature color, no doubt) and the Alcantara-covered ceiling. 
The 675LT is offered in a few new bespoke colors: Silica White, Delta Red, Napier Green, and Chicane Grey. Of course, you can still get it in the famous McLaren orange—but if I were you, I'd try something new. Such a great car deserves a new look, too.

Before it's here, it's on the Bloomberg Terminal.
LEARN MORE