Cars
The Aston Martin Vulcan Showcases the Brand's 'Dark Arts'
We go hands-on with the 800 horsepower, six-speed stunner that is only allowed on the track
By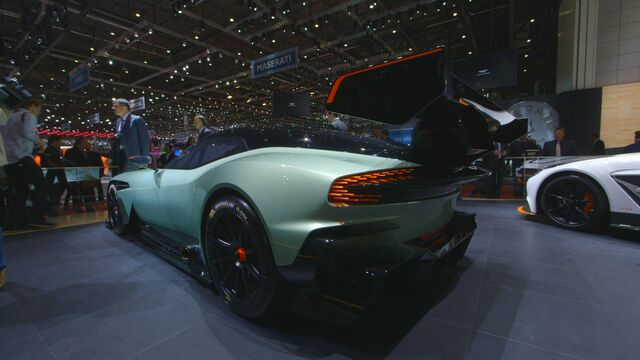 On Tuesday in Geneva, Aston Martin finally unveiled the Vulcan, the car Aston executives are calling "the most extreme supercar" they have made. 
This is the car that has a V12 engine with 800 horsepower, a six-speed sequential gearbox, Brembo racing brakes, and a carbon fiber monocoque that helps the car stay under 3,000 pounds. The price isn't lightweight by any means, however: it'll cost £1.5 million, or $2.3 milllion.

Its name originated in British aerospace (not, as you might assume, from the original Vulcan, played by recently departed actor Leonard Nimoy). The Royal Air Force flew a jet bomber named the Vulcan from 1956 to 1984. Aston bought the trademark to the name three months ago. 
The first things you notice when you see the vehicle are the huge dents in the hood—air vents—and the enormous rear spoiler. There are carbon fiber accents throughout, all the better for making this animal as light as possible. From the rear, you'll see crazy orange tail lights that stick out like quills from a futuristic hedgehog. On Tuesday at the Motor Show, Aston Martin head Andy Palmer said it hints at the design and performance we can expect from the three new model lines Aston will introduce by 2020.

"The Vulcan expresses the dark art of Aston Martin to perfection," Palmer told reporters. 
Which, as you might expect, means it's fit only to drive on a race track. No suburban wandering allowed in this thing. 
Twenty-four will be made. 

Before it's here, it's on the Bloomberg Terminal.
LEARN MORE