Sharp Mulls Restructuring After Report Company Seeks Capital
Grace Huang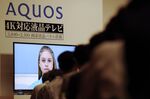 Sharp Corp., a supplier of displays to Apple Inc., said it's considering restructuring options after a newspaper reported the struggling electronics maker is seeking aid from two of its main lenders. The shares fell.
The company is drafting a new medium-term business plan, and no decision has been made on restructuring, Osaka, Japan-based Sharp said Tuesday in a statement to the Tokyo Stock Exchange. There are no plans to revise earnings forecasts at this time, the company said.
Sharp is seeking to raise about 200 billion yen ($1.7 billion) from a debt-for-equity swap with lenders as well as share sales, Nikkei reported, without saying where it got the information. The company's fiscal 2015 net loss may widen to 100 billion yen from the current forecast for a loss of 30 billion yen, Nikkei said.
Sharp fell 3.5 percent to 245 yen at the close of trade in Tokyo, after earlier slumping as much as 9.8 percent.
The maker of Aquos televisions has been trying to cut costs as it struggles to compete with rivals including Sony Corp., Samsung Electronics Co. and LG Electronics Inc.
The company plans to write off solar-panel production equipment and may seek a buyer for the business, Nikkei said.
Sharp said it wasn't the source of the Nikkei report.
Before it's here, it's on the Bloomberg Terminal.
LEARN MORE