Self-Help Author Imprisoned For Sweat Lodge Deaths Is Making a Comeback
James Arthur Ray spent two years in prison after a sweat lodge ceremony in 2009 left three people dead. His experiences behind bars now forms the bulk of his new self-help program.
By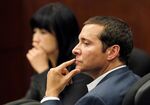 Standing in the kitchen at the back of the Tatum Ranch Community Center in suburban Phoenix, James Arthur Ray hears the rolling chorus of Paramore's Ain't It Fun start to play in the background.