Schwarzman Says Blackstone's Assumption Is Europe Never Grows
Devin Banerjee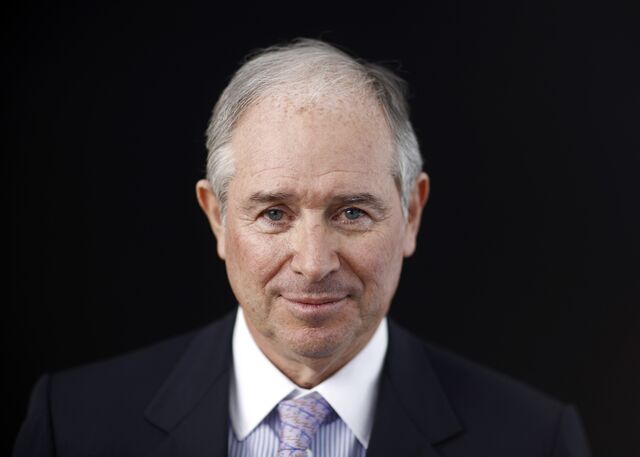 Blackstone Group LP's Steve Schwarzman said his private equity firm assumes no economic growth in Europe when making investments.
"Our baked-in assumption is that Europe never grows," Schwarzman, Blackstone's chief executive officer, said at a breakfast Tuesday hosted by the Wall Street Journal in New York. When buying an asset on the continent, "you have to improve it" rather than depend on growth.
Europe's economy grew an estimated 1.4 percent last year after barely expanding in 2013 and contracting the prior year. Forecasts are improving as the European Central Bank plans to start the latest round of its bond-buying program, announced in January, within days.
Blackstone, the world's biggest manager of alternative assets such as private equity holdings and real estate, and its largest peers have tried taking advantage of economic stagnation in Europe by buying assets on the cheap. New York-based Blackstone last year went back to clients after raising 5.1 billion euros ($5.7 billion) for its latest European real estate fund to ask for 1.5 billion more euros, which it secured. The firm had already committed to spend about two-thirds of the fund as of October.
Structural Reforms
"Their problems are budgetary, structural reforms, a variety of other types of issues as well as the overall structure of the European Union, which is sort of a difficult thing to make work with as much effectiveness as a single country could do," Schwarzman said in January.
The firm's real estate group is benefiting from cheap credit available from U.S. banks to buy assets in Western Europe, Schwarzman said on Tuesday. Making improvements to the properties then allows the firm to increase rents.
"Before you know it, you're making 20 percent with no growth," said Schwarzman.
Blackstone's latest fund for real estate in Europe, the firm's fourth, is generating a 19 percent annualized return after fees. Its third pool, which started investing in 2008, is producing 20 percent.
Before it's here, it's on the Bloomberg Terminal.
LEARN MORE