Sao Paulo Water Everywhere Not Enough to Drink: Corporate Brazil
Ney Hayashi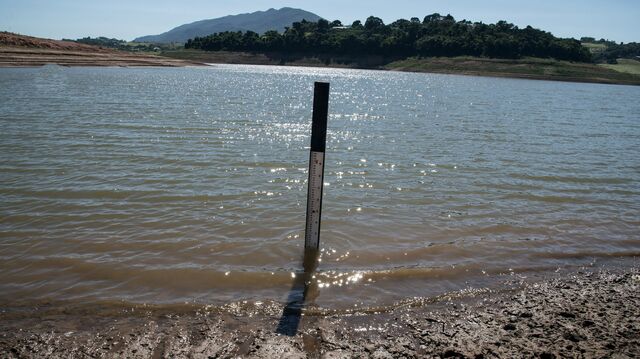 It's been pouring every other day in Sao Paulo. While the state water utility says that's filling up reservoirs drained by last year's drought, Juliana Ito doesn't understand why her taps keep running dry.
The 31-year-old jeweler says she spent as many as five straight days without water at home last month, and had to drive to her mother's house to take a shower.
"I really don't know what's causing this problem," said Ito, who lives 5 kilometers (3.1 miles) from the headquarters of Sao Paulo's water utility. "All I know is that's been happening day after day."
Cia. de Saneamento Basico do Estado de Sao Paulo has said it's reducing water pressure at night to save water. That situation could've been avoided if the utility known as Sabesp had put more money into expanding reservoirs and fixing leaks, according to university professor Edevar Luvizotto Jr. Just a year before the worst drought in eight decades hit Brazil's largest city, the company posted the slowest rate of investments among peers in the Americas, data compiled by Bloomberg show.
"The drought is a problem for sure, but the big issue is that the utility hasn't prepared for it," Luvizotto Jr., the head of the department of water resources at the University of Campinas, said by telephone. "Water resources in Sao Paulo have been managed as if there were endless supply. Everyone is now seeing, the hard way, that this is not the case."
Network Expansion
Sabesp spent 20 percent of its sales in maintaining and expanding its network in 2013, compared with 26 percent for the average of seven utilities in the Americas, according to data compiled by Bloomberg. The company invested the equivalent of 69 percent of net income from 2004 through 2013 to improve operations, according to its press office. It hasn't given any further details on the impact that last month's rainfall is having on Sao Paulo's reservoirs.
Regarding Ito's water shortages, Sabesp said that pressure has been lowered on her street, and the company is "making some adjustments" to improve supply.
Reducing water pressure is a better option than rotating cutoffs, Paulo Massato, a metropolitan director of Sabesp, said at a Feb. 25 congressional probe session in Sao Paulo. While cutting people off would be a "last resort" because it could allow sewage and dirt to get into empty pipes, he said that wouldn't stop Sabesp from doing it if needed.
The utility won't make a decision on next steps until the end of the rainy season, which runs through March, he said.
Rainfall at the Cantareira reservoirs reached 322.4 millimeters in February, 62 percent above the historical average, according to data compiled by Sabesp. The Cantareira and Alto Tiete reservoirs, which serve 11 million people, rose to 11 percent and 18 percent of capacity, respectively, from 5.1 percent and 11 percent a month earlier.
Illegal Siphoning
Thirty-six percent of treated water escapes from Sabesp's system through leaks and illegal siphoning, according to data from Instituto Trata Brasil, a nongovernmental organization that monitors water issues. That compares with an average 37 percent nationwide, the data show.
While Sabesp speeds up projects to increase water supply, those investments should have been made already, said Joao Simanke, a hydrogeological consultant who worked for the utility for 27 years until 2006. Sabesp hasn't invested enough because the company focused on maximizing profits rather than investing in expansion, according to Simanke.
Its shares had more than tripled in the four-year period through the end of 2012, compared with a 62 percent gain for the Ibovespa. Since then, the stock has tumbled 43 percent, with most of that plunge in 2014, as Sabesp started giving discounts to clients who save water. Sabesp rose 0.4 percent to 16.59 reais in Sao Paulo.
"Investors put millions into buying shares and want to get the money back at some point," Simanke said in a telephone interview. "Is that a conflict with the company's mission? Unfortunately, it is."
Before it's here, it's on the Bloomberg Terminal.
LEARN MORE