Party Hard, Network Harder: Why Young Conservatives Love CPAC
The conference isn't just about speeches. For young conservatives it's four days of networking, partying, and learning how to beat the left.
By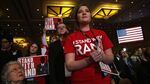 The biggest surprise for first timers at CPAC, the annual conservative conference in National Harbor, Md., might be that it's not dominated by grey-haired Republicans. "That's kind of what I thought it was originally last year," said Marisa Jorge, a 20-year-old Liberty University student.
Last year was Jorge's first CPAC. Like other volunteers with the Young America's Foundation, a group started in the late 1960s to teach students about conservative principles, Jorge stayed in a room in the Westin Hotel paid for by YAF, so she was invited to small receptions organized by the group. "But a lot of the people that come with YAF are big partiers," she said. "There was definitely a lot of partying, a lot of them have been coming to CPAC for years and years and years and their parents have been involved in politics and they know everyone."
I set out to figure out what the appeal of CPAC is for college conservatives—especially the ones under 21. It's not the activist training sessions on getting on TV or going after far-left liberal professors. It's not the speeches. It's about networking, partying, or doing both at the same time. 
"I think that's what every conservative is here to do. Have fun, but be responsible," Austin J. Samuelson, the chair of the Western Connecticut State University College Republicans said Friday night, as he and a group of friends were heading to a party.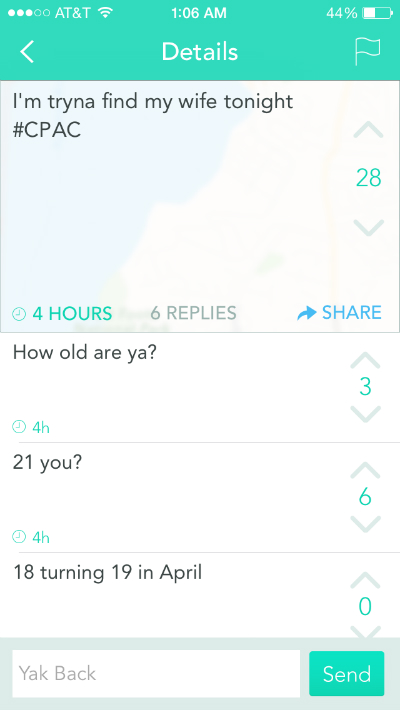 CPAC, he added, is like "an expanded dorm room," and he wanted to meet other College Republican National Committee chairs to discuss ideas, especially on how to grow the group in a blue state like Connecticut. He was also there to network—the night before he met Texas Senator Ted Cruz at an event and gave him his business card, which he also gave me.
Samuelson and his friends were heading to the same CRNC party I'd heard about the night before, from a group of CRNC members leaving a party being held in a hotel room on the eighth floor of the Gaylord . That group said that the daytime networking was superficial, but at night is when people really get to know each other. Eventually they gave me their business cards and told me to go to The Public House on Friday.
The Public House is one of the main bars in the little resort village surrounding the Gaylord Resort. When I showed up around 11:30 there were about 30 people waiting outside to get in, including a group of CPACers who said the bar scene was big among people over 21 (and some kids with fake IDs). They eventually left to go watch House of Cards. 
Samuelson had also suggested I try Yik Yak, an app that lets people in the same area post and comment on anonymous messages. It's popular on college campuses and at CPAC, where it was dominated by late night inquiries on where the party was, requests for cuddle buddies, comments about which groups had the best looking volunteers, and shout outs to politicians (Jeb Bush was "impressive," Rick Santorum is a "DILF," and someone wanted to do shots with Sarah Palin). Someone suggested going to the Gaylord's rooftop hotel, but I did and it was dead. 
Nearly all of the posts were about young conservatives trying to bond with other young conservatives. CPAC, after all, might be the only place where posts looking for a "hot CR guy" (college Republican) to cuddle with can live side by side with posts debating whether the Rand Paul supporters who walked out of the Jeb Bush Q&A were immature.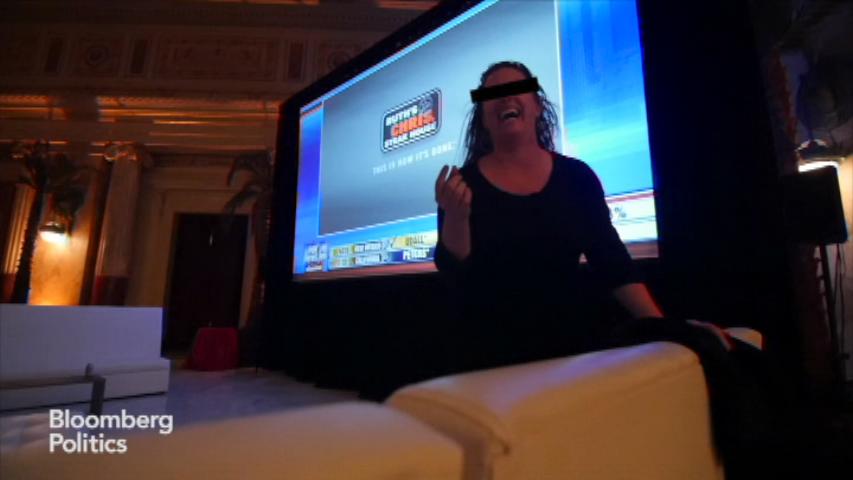 The appeal of CPAC is that all the young people are pretty much the same: they want to have fun, they want to be gainfully employed when they graduate despite having majored in political science, and they want to be around other people who are just like them.
Samuelson put it another way. "It's like I get to be with thousands of myself," he said. 
"I made some really close friends that I still keep in touch with, from last year at CPAC," Jorge said. "And I think part of the reason is we're all conservatives… and we're all into politics, and that's something you don't necessarily get with your other group of friends from school."
Jorge and I met at one of the dozens of small food and drink events that happen at CPAC, a reception for activists hosted by YAF and the Intercollegiate Studies Institute. The reception, held in one of the Gaylord National Resort's conference rooms, followed CPAC's first attempt at hosting an activist boot camp, a full day of sessions on topics like how to get involved in Student Government so campus fees and tuition (aka taxes) are spent on parking lots instead of Katy Perry concerts, or how millennial spokesmen got their start.

Ron Meyer of YAF advised attendees to "look for radical examples of political correctness" on campus and write about it, and fight "a failed liberal education system that has not prepared them." Charlie Kirk, the founder of Turning Points USA (which has the same basic mission as YAF), told the crowd that he got his start when he wrote about how his "far-left wing economics teacher" ignored him when he said their AP Economics book, written by Paul Krugman, had a liberal bias. So he sent in a tip to Breitbart, and ended up writing a post that went viral and helped jumpstart his career. 
Afterwards, members of ICI and YAF passed out complimentary drink tickets and gold, rubber wristbands with VIP ACTIVIST #readysetwin imprinted on the front. One volunteer, a young man in a tan suit, hinted that this was just one of many parties to come: "CPAC is Mardi Gras for young conservatives."
Last year, Jorge's main goal was to get an internship, and she landed one with the Madison Coalition, a group that works to protect state's rights. A lot of people go to CPAC hoping to land a summer internship in D.C. 
Jorge said she'd like to go to law school and work for the kind of conservative legal groups that submit amicus briefs to the Supreme Court. Her friend Amanda Long, a 20-year-old Liberty student studying journalism, said her dream job is to work for Glenn Beck—she loves The Blaze. Until then, they're starting a campus club called Christians for Freedom, a religious liberties group that will focus on teaching students about the First, Fourth, Ninth and Tenth amendments.
Jorge and Long said they went to socials, but not parties where alcohol's involved. "First of all we're not even old enough to drink, so it really doesn't make any sense for us to be there," Long said, "but I think we really like to maintain professionalism in everything that we do, so getting drunk isn't really part of that."
But even Jorge had a good idea of which groups were the partiers. Last year, another CPACer drunkenly knocked on her door looking for the group from Clemson University in South Carolina. "The Clemson boys, they are the real partiers of CPAC," Jorge said.