O'Malley Takes a Pass on Maryland Senate Race
The potential presidential candidate says he won't change tracks.
By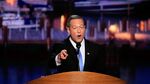 Former Maryland Governor Martin O'Malley, a potential Democratic presidential candidate, said Tuesday he wouldn't seek the seat being vacated by retiring Senator Barbara Mikulski.
"Senator Mikulski has done an outstanding job representing Maryland in the U.S. Senate for nearly 30 years," O'Malley said in a statement. "I am hopeful and confident that very capable public servants with a desire to serve in the Senate will step up as candidates for this important office. I will not be one of them."
O'Malley said last month he is "very seriously considering running in 2016." He has garnered single digits in recent public polls of the Democratic presidential primary, trailing presumed frontrunner Hillary Clinton, Vice President Joe Biden, and Massachusetts Senator Elizabeth Warren. 
Mikulski's retirement announcement sets off a scramble among Maryland Democrats. As our colleague Kathleen Hunter reported Monday, "Labor Secretary Tom Perez, Baltimore Mayor Stephanie Rawlings-Blake and half the members of Maryland's U.S. House delegation are on the short list of possible Mikulski successors, according to a longtime Democratic strategist.
"U.S. Representatives John Delaney, Chris Van Hollen, Donna Edwards and John Sarbanes, the son of former Maryland Senator Paul Sarbanes, are expected to at least consider running. ... Delaney said in Twitter post Monday that he would 'explore a race for Senate.'"