Merck KGaA Profit Grows on Demand for Materials and Drugs
Oliver Staley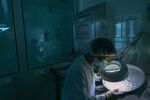 Merck KGaA's profit rose 10 percent in the fourth quarter on higher demand for liquid crystals and the cancer treatment Erbitux as the German drugs and chemical maker forecast a slight increase in 2015 sales.
Earnings before interest, taxes, depreciation and amortization excluding one-time items climbed to 878.4 million euros ($983 million) from 795.2 million euros a year earlier, the Darmstadt-based company said in a statement. Analysts predicted 856 million euros, the average of nine estimates collected by Bloomberg.
Merck is investing in its materials and life-sciences supply businesses after its pharmaceutical unit has gone more than a decade without a major new drug approval. In September, it agreed to pay $17 billion for Sigma-Aldrich Corp., a U.S. maker of chemicals used by medical companies. It purchased AZ Electronic Materials SA in June, helping to boost sales in the quarter at the unit that sells liquid crystals for televisions by 50 percent.
"Merck is transforming into a highly specialized, global technology company," Chief Executive Officer Karl-Ludwig Kley said in the statement.
Merck shares rose 0.9 percent to 95.10 euros on Tuesday in Frankfurt, giving the company a market value of about 41 billion euros. The stock has returned 58 percent over the last year, including reinvested dividends, compared with a 33 percent return for the Bloomberg Europe Pharmaceutical Index.
'Cautious' Guidance
Full-year sales were 11.3 billion euros, exceeding the 11 billion to 11.2 billion euros forecast in November. For 2015, the company forecast "slight" organic growth in sales and a slight increase or at least stable development in Ebitda, excluding one-time items.
"Initial 2015 guidance is cautious and more qualitative, as usual," Daniel Wendorff, an analyst at Commerzbank AG in Frankfurt, said in a note to clients. "Overall, we see today's event as a positive."
Erbitux sales rose 5 percent in the fourth quarter on an organic basis to 234 million euros. Sales of Rebif, the company's best-selling multiple sclerosis treatment, fell 5 percent in the quarter by the same measure to 450 million euros, on increased competition.
The performance materials unit, which includes liquid crystals, saw sales rise to 576 million euros, including the acquisition of AZ, with organic growth of 6.9 percent. Organic measures exclude the effects of acquisitions and currency fluctuations.
Before it's here, it's on the Bloomberg Terminal.
LEARN MORE