Justice Department Finds Ferguson Police Had Pattern of Racial Bias
Del Quentin Wilber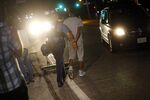 The Justice Department has concluded that Ferguson, Missouri, police routinely violated the constitutional rights of minority residents because of deep-seated racial biases and a focus on generating revenue over public safety.
A final report by the Justice Department, which has been investigating the suburban St. Louis police force since last September, is expected to be issued as soon as Wednesday, according to a law enforcement official who described its overall findings.
The investigation's conclusions come seven months after the shooting death of a unarmed black teenager by a white Ferguson officer. That shooting and several other incidents around the U.S., including the choking death of a black man at the hands of white New York City police officer, sparked widespread protests that highlighted racial divisions in the U.S. and distrust between police and the communities they serve.
Both cases "exposed a deep-rooted frustration in many communities of color around the need for fair and just law enforcement," President Barack Obama said Monday after meeting with a task force on policing that he appointed to make recommendations on ways police departments can restore trust.
Dual Investigations
Following the shooting in Ferguson, the Justice Department began two investigations -- one into the shooting itself and another into whether the police department violated the civil rights of residents. That broader probe has concluded and the findings will be released tomorrow in a letter to the Ferguson government, according to the law enforcement official who spoke on condition of anonymity to describe the report.
The official said the Justice Department review found that 53-member Ferguson police department engaged in practices that led to a disproportionately high percentages of blacks being stopped, ticketed, arrested and subjected to use of force by police officers.
For example, African-Americans made up 67 percent of the Ferguson population yet accounted for 93 percent of those arrested, and 88 percent of those subjected to use of force.
Blacks were also far less likely to have criminal cases dismissed and more likely to have arrest warrants issued against them, the Justice Department found.
Such actions were fueled, in part, by bias and stereotypes by Ferguson police and municipal court employees, according to the report described by the official.
Racial Remarks
In one example, the Justice Department uncovered a 2008 e-mail from one of the employees that said Obama would not have the job for long because black men don't hold jobs for four years, according to the official. In another e-mail, a Ferguson employee made a remark that an abortion for a black woman was funded by a crime-stoppers program.
The department concluded that the Ferguson Municipal Court also often focused more on raising revenue than on public safety, in part, by seeking to collect fines from those charged with failing to appear in court.
The Justice Department found such discriminatory practices fueled long-standing distrust of the Ferguson police by residents, the official said.
Michael McPhearson, co-chairman of the Don't Shoot Coalition, which comprises about 50 local groups in the St. Louis area and was formed after Brown's death, said news of the Justice Department's findings brought no relief.
City's Approach
"When people ask why there was such a reaction to the death of Michael Brown, people were reacting because of how they've been treated over the years and clearly the Justice Department findings show that people were not making this up," said McPhearson, who is also the executive director of Veterans For Peace.
Telephone calls seeking comment to city officials weren't immediately returned. Ferguson officials, including Mayor John Knowles and Police Chief Tom Jackson, met with Justice Department representatives today in St. Louis, according to an e-mailed statement from Jeff Small, a city spokesman. The city will issue a statement after the department's report is released, according to the statement.
Top U.S. officials have signaled for months that the report will be broad, detailed and highly critical. "It's pretty clear that the need for wholesale change in that department is appropriate," Attorney General Eric Holder said in October.
Criminal Case
After receiving the Justice Department letter, the Ferguson department can either negotiate a settlement or face a federal lawsuit that would seek to force it to make changes.
Meanwhile, federal prosecutors and investigators have concluded they probably wouldn't win a criminal prosecution against the officer, Darren Wilson, who shot the black teenager during a confrontation last August.
Federal prosecutors would have to prove that Wilson intentionally sought to violate 18-year-old Michael Brown's constitutional rights when he shot the teenager during a fast-moving confrontation on Aug. 9.
Wilson told the grand jury that he feared for his life when he twice opened fire on Brown, once in his police car and again on a Ferguson street.
Holder, who last year announced plans to resign and said he would serve in the job until a replacement is confirmed, has said he would issue findings in both investigations before he steps aside. The Senate is expected to vote soon on Obama's nominee for the job, Loretta Lynch, the top federal prosecutor in Brooklyn.
Before it's here, it's on the Bloomberg Terminal.
LEARN MORE