Is Insuring Your Identity Against Fraud Worth It?
The price for peace of mind can be high. Help when fraud strikes is a big draw, though
By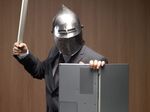 Anyone who isn't in a high state of alert about safeguarding his or her identity is either in massive denial or is a fatalist. The data breach at Anthem put about 80 million consumers at risk of ID theft, states are seeing a spike in fraudsters using stolen identities to file for income tax refund checks and new hacks seem to be discovered every week. That's made ID theft protection a booming industry, with new products being launched and existing ones tweaked to help with, and profit from, the anxiety.