Brittany Sowacke/Bloomberg
Here's the Latest Sign the Oil-Price Plunge Is Hitting the Job Market
Help-wanted ads for energy-industry workers are diving
By
As investors prepare for the release of the February U.S. employment data on Friday, we're getting more inklings of how the shakeout in the oil industry will impact the jobs market, and it doesn't look great: Demand for workers in energy-related occupations is plunging. 
Online help-wanted ads for jobs involved in the extraction of oil and gas -- derrick operators, wellhead pumpers, roustabouts and the like -- declined 42 percent in the two months through January as oil prices cratered, according to data compiled by the Conference Board and Wanted Technologies. Occupations in the industry that have higher education requirements, such as petroleum engineers, geoscientists and technicians, also saw demand for their services collapse, with ads dropping 38 percent, Gad Levanon and his fellow researchers at the Conference Board wrote on their blog this week.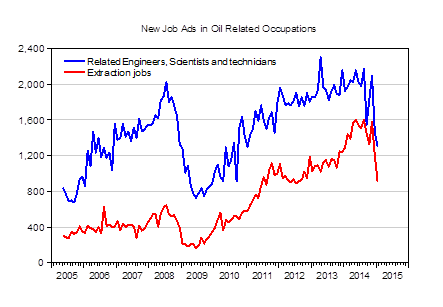 The downbeat message from the online ad postings echoes that of a report last month by global outplacement firm Challenger, Gray & Christmas, which showed that 38 percent of announced job cuts in January were in the energy industry.

As we noted last month, employment in oil and gas extraction and related supply industries doubled over the last decade, reaching some 523,500 workers. If the Conference Board and Challenger data are anything to go by, that trend is likely to reverse big-time this year. 
For more, read this QuickTake: Oil Prices