Dodger Fans Face Second Season of TV Blackout Amid Fee Rift
Lucas Shaw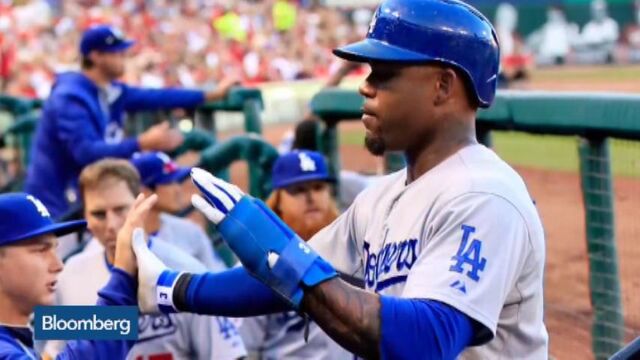 When the Los Angeles Dodgers take the field Wednesday against the Chicago White Sox in Arizona for their first spring training game, they'll be invisible to most TV fans back home.
For a second straight year, a dispute over the subscriber fees sought by Time Warner Cable Inc., which operates the Dodgers' SportsNet LA, is blacking out games to more than 60 percent of Los Angeles-area viewers.
That rankles Kent Tieche, owner of the Park Bar & Grill, who counts on Dodger devotees to keep the beer flowing during baseball season. His bar on Burbank, California, gets pay-TV service from Charter Communications Inc., which like DirecTV and Dish Network Corp. is balking at the $4-plus a month per subscriber Time Warner Cable is demanding from all Los Angeles pay TV customers. That's shut out most fans.
"The Dodgers were foolish to get locked into such a deal with someone like Time Warner Cable," Tieche said in an interview. "People have always been mad that only DirecTV has 'NFL Sunday Ticket,' but at least you can get that anywhere."
The dispute stems from a 25-year pay-TV agreement reached in 2013 between New York-based Time Warner Cable, the No. 1 cable service in Los Angeles, and Guggenheim Partners LLC, the private-equity group that led the purchase of the team for $2.15 billion a year earlier.
Under an accord valued at $7 billion to $8 billion, Time Warner Cable became the charter distributor of the Dodgers' SportsNet LA and set about pressing other pay-TV providers in the region to charge all of their subscribers $4-plus a month for games. That's more than the New York Yankees charge for the YES Network, according to researcher SNL Kagan.
DirecTV Comment
DirecTV, Charter, Dish, Verizon Communications Inc., AT&T Inc.'s U-verse and Cox Communications all refused.
As a result, only local subscribers of Time Warner Cable and tiny Bright House Networks LLC can legally see Dodger games. The Angels, the region's other Major League Baseball franchise, are carried locally by 21st Century Fox Inc. and are available on all of those systems.
Neither side has been willing to budge.
"We remain hopeful we can achieve a deal with Time Warner Cable and the Dodger ownership that satisfies both fans and non-fans alike," El Segundo, California-based DirecTV said in an e-mailed statement. The company, the second-largest provider in the region, has been a critic of rising program costs.
Cox, based in Atlanta, said in a statement it's also interested in a deal with Time Warner, provided it can get "flexible terms and pricing that would deliver content to the fans who want it and not overburden those who don't."
Other providers, which have also struggled to contain program costs, either declined to comment or didn't respond. The Dodgers wouldn't comment.
Pursuing Talks
Time Warner Cable, which has agreed to be purchased by Comcast Corp., said through a spokesman it's pursuing talks with the other providers. The Dodgers, one of the favorites to win the World Series this year, open the regular season April 6 at home against the San Diego Padres.
Time Warner Cable and the team are asking for a lot in a market with several regional sports networks, on top of national outlets like ESPN and Fox Sports 1, said Lee Berke, a consultant who helped the San Francisco Giants create a new TV network with Comcast.
"They are attempting to justify a payment that at this point the marketplace isn't willing to pay," Berke said in an interview.
Many cable and satellite providers already carry Time Warner Cable SportsNet, the channel that airs the Los Angeles Lakers, as well as 21st Century Fox-owned channels that carry the Los Angeles Clippers, the Los Angeles Kings, Anaheim's Mighty Ducks and the Angels.
As cable bills rise, disputes between pay-TV distributors and content owners have increased. Few last as long as this one because the parties often reach an agreement as major events like awards shows or championship games draw closer.
Regular Season
Before baseball's playoffs last year, Time Warner Cable made a deal with a local broadcast station to air the Dodgers' final six regular-season games.
That was a short-term fix. Longer-term, the cable operator and the team risk losing fans, along with the subscriber fees and ad dollars they generate.
"Time Warner Cable will suffer because they aren't getting the dollars they thought they'd be getting," Berke said. "The Dodgers need their games to be seen. As time goes by and games aren't seen, that hurts."
Viewers, meanwhile, are finding workarounds.
Tieche, the tavern owner, also runs a video-game repair business inside Time Warner Cable territory and uses a streaming device called Slingbox to show the games at the Park Bar & Grill. The video quality isn't great.
"Not having the games was killing us," Tieche said.
Horn Protest
The stand-off may help the Dodgers in one area: ticket sales. The club drew more fans than any other team in baseball last year.
That's little solace to Tim Knoch, a 57-year-old retired postal employee who can't watch his favorite baseball team, or its legendary announcer Vin Scully. For fans who don't have Time Warner Cable, he's available only on radio.
"I proposed every fan at opening day, one hour before the start, honk their horn for two minutes straight to show anger at no TV," Knoch wrote on Twitter.
Before it's here, it's on the Bloomberg Terminal.
LEARN MORE