Look Who's Not Coming to China's Party:  Business Leaders Sidelined by Graft
Bloomberg News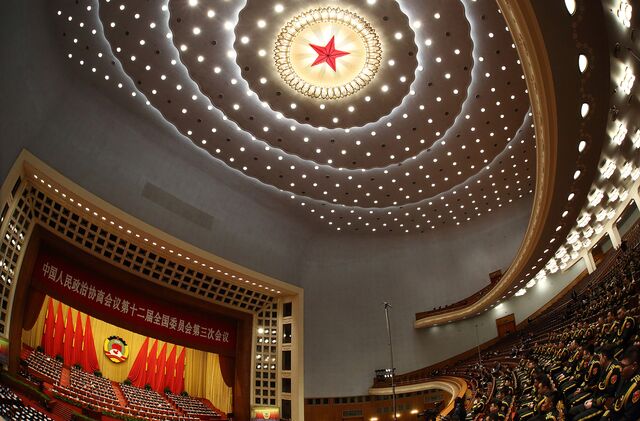 When almost 3,000 lawmakers gather in Beijing Thursday for the annual session of China's National People's Congress, some of the business community delegates may be sitting a little uneasily in their seats.
President Xi Jinping's anti-graft campaign has taken down dozens of NPC delegates, with the focus now shifting to business leaders who are seen as hampering reform efforts aimed at sustaining growth in the world's second-largest economy. Nine business leaders, who headed companies ranging from energy utilities to investment, will be absent from the meeting.
Xi has said that widespread corruption threatens the legitimacy of the Communist Party and the anti-graft campaign he launched in November 2012 has been a powerful tool in consolidating his position as the strongest leader since Deng Xiaoping. He started turning the heat up on state-owned enterprises in January, when he urged the party's disciplinary watchdog to strengthen supervision of senior executives.
"The focus seems to be shifting from an attack in which the main target was the political tigers to one in which the hunters are specifically stalking SOE tigers," said Andrew Wedeman, a professor at Georgia State University in Atlanta who studies Chinese graft, referring to the "flies and tigers," or the low- and high-level officials Xi promised to target.
"Such an attack could be a segue to a new round of economic reforms," he said.
Officials Felled
The crusade initially focused on the government and spread to the military, felling thousands of officials including the nation's top security chief and an ex-deputy commander-in-chief.
In February, 26 of the biggest state-owned firms were identified by Wang Qishan, head of the Central Commission for Discipline Inspection, and inspections started this month. The companies include China National Petroleum Corp., China National Offshore Oil Corp., China Mobile Ltd., State Grid Corp. of China, China Huaneng Group and National Nuclear Corp.
The executives embody the so-called vested interests that are often cited as the obstacles to change. Xi is pushing to reduce dependence on heavy manufacturing and exports to achieve more sustainable growth by boosting services and domestic demand.
At the NPC, Premier Li Keqiang will announce a new growth target of about 7 percent for the $9.2 trillion economy. Growth was 7.4 percent last year, the slowest pace since 1990.
The risk from the anti-graft campaign is that executives refrain from pursuing regular business, concerned about drawing attention from the corruption watchdog.
Executive Suite
"Some officials at state-owned enterprises are failing to do their jobs," said Hu Xingdou, an economics professor at the School of Humanities and Social Sciences at Beijing Institute of Technology. China's leaders "realize that reform of the entire corrupt state-owned enterprise system won't happen without total reform of the executive suite."
At least 27 delegates have resigned or been expelled from the Communist Party in the past year after being put under investigation for alleged graft or other wrongdoing, according to the website of the party's corruption watchdog or state media reports.
In the past two years, 39 deputies either resigned or have been stripped of their NPC membership, Fu Ying, the NPC's spokeswoman, said at a briefing today.
"Deputies to the People's Congress should be exemplary in abiding by the constitution and laws," Fu said. "The vast majority of deputies are going a good job."
The annual political gathering brings together businessmen and officials for about two weeks of policy discussions. NPC delegates are chosen in their home provinces and serve five-year terms.
Purifying Corporations
Lower-level inspections into 14 major state-owned enterprises in the past two years led to the fall of more than 70 executives in 2014, Xinhua reported Feb. 6.
"In order to unleash the dynamism of SOEs, the government should purify the corporate environment and prevent any fraud," the People's Daily, the Communist Party's official mouthpiece, wrote in a Feb. 10 editorial titled, "SOE reforms depend on getting rid of the stumbling block of corruption."
China's state-owned firms retain near complete control of the country's services, though the growth of private enterprise pushed their share of industrial output down to about a quarter in 2011 from three quarters in 1978, according to Nicholas Lardy's 2014 book ''Markets Over Mao.''
Their inefficiency is a drag on growth, he wrote, citing statistics that show the returns on assets of state-owned firms are lower than the returns for private-sector firms.
Misallocation of Capital
"In short, there is a substantial misallocation of capital, which, if corrected, would allow China to sustain relatively rapid economic growth, with a smaller share of resources devoted to investment," Lardy wrote.
The missing at this year's meeting include Liu Jianzhong, chairman of Shanxi Jinneng Group, who was dismissed from the NPC due to "suspected law violations," Xinhua reported on Nov. 1. Another, Feng Jun, general manager of Shanghai Municipal Electric Power Co., was probed in October on suspicion of taking bribes, according to a Jan. 21 statement on the website of the Shanghai People's Procuratorate.
Two other executives from state-owned enterprises will be absent: Yan Fulong, general manager of the State Grid Liaoning Electric Power Supply Co. and Huang Shunfu, chairman of the Sichuan Provincial Investment Group Co.
With such a well-flagged turn in focus toward rooting out corporate wrongdoing, it's little wonder that many of the NPC's business delegates will be nervous.
"The crackdown on corruption among SOE executives will become a major focus," said Li Guifang, a lawyer who defended disgraced party leader Bo Xilai. "The executives are spoiled and it became a custom for them to take bribes to sign deals."
— With assistance by David Tweed
Before it's here, it's on the Bloomberg Terminal.
LEARN MORE