Can Maryland's Donna Edwards Be the Ted Cruz of the Left?
Progressives jump into Maryland's Senate race to back an old favorite.
By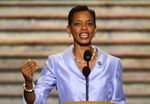 Since the end of 2014, a coalition of progressive groups—MoveOn, Democracy for America, Ready for Warren—has organized in early primary states to get Massachusetts Senator Elizabeth Warren into the 2016 presidential race. She has refused to oblige. Just this week, the Democratic Senatorial Campaign Committee successfully tapped the panic buttons of reporters and activists by putting out an email under Warren's name, titled "I'm In." She was in... for further Democratic fundraising.
The newly open Senate race in Maryland is giving these same progressives a new, less quixotic cause: Getting Representative Donna Edwards to run for Senate. MoveOn and DFA have both dipped into the Free State with emails to supporters who could be activated for a bid. In a message to its Maryland members, MoveOn insisted that "for a progressive to win, they'll need to start gathering support and putting together their campaign right away." That preceded a list of 14 Democrats, from the likely (Representative Chris Van Hollen, who is actively looking at the race), to the unlikely (defeated gubernatorial candidate Anthony Brown) to Donna Edwards.
An email from DFA was less subtle: It announced that the organization was "teaming up with MoveOn and the Progressive Change Campaign Committee," and that it was asking if people were Ready for Donna.
In the discussion around who will be Sen. Mikulski's successor, one name keeps popping up that should ring a bell for all Maryland Democracy for America members: Rep. Donna Edwards.

DFA worked closely with Rep. Edwards in her first Congressional race. She took on a Wall Street Democrat and, with the help of the progressive grassroots, pulled off an exciting win. 

Do you think Donna Edwards should run for Senate? Click here to tell us what you think. We will report the results back to you -- and to Donna.

Since joining Congress, Donna Edwards has gone to the mat for working families in Congress time and time again. She was the first member of Congress to introduce a bill to overturn Citizens United, and she was a leading advocate in the House for the Violence Against Women Act.

Donna Edwards is a true Elizabeth Warren Democrat -- and exactly the kind of voice progressives need more of in the Senate. 
DFA's history was solid. In 2004, Edwards lost an insurgent primary bid against Representative Al Wynn, one of very few black Democrats who had voted for the War in Iraq. In 2006, with better organization and national progressive backing, Edwards ran again and clobbered Wynn. The Edwards win was of a piece with the successful progressive primary challenge against then-Connecticut Senator Joe Lieberman, and it presaged the creation of the Progressive Change Campaign Committee... which, as it happened, was sending out an email asking people to consider Edwards that read: 
It's going to be very important for Maryland progressives to choose a candidate quickly and avoid a messy primary. We're partnering with Democracy for America and MoveOn to help Maryland progressives speak out at this moment.
The record of progressives pushing preferred candidates into federal races is mixed. In 2011, while Senate Democrats were trying to get Warren into Massachusetts's race, the PCCC waged a draft campaign and collected donation pledges—$700,000 worth of them. MoveOn did the same. A copycat 2013 campaign to draft former Montana Governor Brian Schweitzer into his state's open Senate race failed only when Schweitzer bailed, focusing instead on a possible presidential bid, which has gone exactly nowhere.
In both cases, progressives faced less resistance than they will in Maryland. There were no stronger candidates in the Massachusetts or Montana races than Warren and Schweitzer. Maryland, whose Democratic lean conceals a competition between deep blue power bases, has plenty of claimants to the Senate seat. Edwards, whose district covers the D.C. suburbs of Prince George's and Montgomery counties, has no base in the state's other population center of Baltimore. Representative Elijah Cummings, who like Edwards would be the state's first black senator, has that base. Representative Chris Van Hollen, a former chairman of the Democratic Congressional Campaign Committee, boasts a far fatter rolodex of donors than Edwards. 
But the "netroots" knows Edwards. Today, as most of Maryland's delegation sat and listened to Benjamin Netanyahu's speech, Edwards was conspicuously absent. The left, which has not quite matched the right's success in putting its insurgents into Senate seats, sees the same opportunity in Maryland that Tea Partiers once saw in Ted Cruz's Texas.