Bob Evans Plunges After Deciding Not to Sell Prepared-Food Unit
Craig Giammona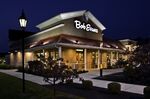 Bob Evans Farms Inc. shares tumbled the most in more than 15 years after the board decided against selling or spinning off its sausage and refrigerated-food business.
The company evaluated the possibility with investment bank Lazard and determined it wouldn't enhance shareholder value, according to a statement on Tuesday. The unit would have to fetch a high price for a separation to be worthwhile, and Bob Evans would lose the savings and synergies of operating the business, the board's finance committee concluded.
Bob Evans also cut its profit and sales forecast for the year, dealing an additional blow to investors who'd anticipated a payout from the sale. Bob Evans, which runs a restaurant chain as well as selling refrigerated and frozen food to groceries, still is weighing options for its real estate with help from JPMorgan Chase & Co. The company also is seeking a new chief executive officer after Steve Davis left in December.
The stock slid 22 percent to $46.63 at 9:51 a.m. in New York and earlier slid as low as $46.51 for the biggest intraday drop since October 1999. Shares of the New Albany, Ohio-based company had climbed 17 percent this year through the close of trading Tuesday, helped by the prospect of the food unit's sale.
Bob Evans now expects profit of $1.40 to $1.60 a share this year, down from a previous range of $1.90 to $2.10. The drop stemmed in part from the poor performance of the company's restaurants in the fiscal third quarter, which ended Jan. 23, Bob Evans said.
Bob Evans investor Sandell Asset Management Corp. had said last year that a private-equity firm was interested in buying the company's food business.
Before it's here, it's on the Bloomberg Terminal.
LEARN MORE